This tool is the game-changer you need for your biz [Black Friday Special Offer!]
I hope you had a wonderful Thanksgiving with your loved ones! Thanksgiving has always been my favorite holiday, a celebration centered around gratitude with pies of all flavors and an afternoon strolls along the coast before dessert time… is magical to me.
Over the past couple of months, I've had some big "a-ha's" in my business — focused on what my gifts are and what my greatest source of contribution is to my clients.
So often, I notice that the answers to my client's troubles are oftentimes staring them right between their eyes. It is when I reflect that observation back to them, they see it for themselves too. That was certainly the case for me a couple of months ago when it was reflected to me that systems and organizational business frameworks are my sweet spot as an entrepreneur.
That got me thinking…
I knew I was skilled in the area of creating systems. But I've realized that the key to my success is a result of the intersection of the systems I've created, plus the high vibe coaching and accountability structure I've implemented. The result is my own business sweet spot.
It's that place where my work-life balance is in sync and I'm enjoying the fruits of those labors.
I'm convinced we're all in search of that elusive sweet spot. It's that place where your business runs in such a way that helps bring your dreams and visions out of the subjective, and into reality. But you need a system to help you get there.
Imagine seeing your dreams and visions become your reality. Maybe it looks like…
→ Implementing your ideal schedule (therefore giving you the freedom you crave)
→ Creating a healthy lifestyle (which would give you the confidence and joy you feel are lacking)
→ Being in control of your day vs. being at the mercy of your day (you've made time to do the things that bring you joy and financial freedom)
I've found a system that has truly allowed me to make my dreams a reality. So many people ask me about it, and so for the first time ever, I want to share it with you all, my tribe!
The answer has been my own project management tool.
This tool allows me to track all aspects of my business. Including progress on goals, income targets and steps to follow through with my goals.
Who is this for?
If you are ready to uplevel in a big way and simply haven't found a system that works, then this tool will be a game-changer for you.
Here's why:
Goal setting is a key aspect of reaching an end goal. If you're not willing to declare your intention and say what you want, how will you ever get there? This tool will help you organize your thoughts, get clear on what you want, why you want it, and get intimately connected with the distinct experience of your life that will be available to you from reaching your final goal.
You will get so inspired by your goal and why you want it, that it will inspire you into focused action with clear measures of success that you will get to celebrate along the way. One of the aspects of goal setting that is unique to me is how much I've come to gamify my goals and create the frameworks and rules such that I get to win and celebrate those wins along the way. Who doesn't like winning?
Tracking progress is crucial to success. As a trained economist, I know the importance of data. Data is dreamy in my book and while I know you may not all agree, stay with me for a moment. When we track progress towards our goals, the data can reveal what's working and what's not. When we can remove the emotion outside of our goals, tracking data allows us to make smart business decisions and rejigger opportunities for change.
We fundamentally resist tracking our progress because we place so much emphasis and significance on reaching the goal, we forget how data helps us understand how we got there. We can then finetune our roadmap or our game strategy to redirect us towards reaching our goal. This is a much healthier approach to adjusting our goals versus placing our personal value on the successful (or lack thereof) completion of that goal.
Consistency is everything in business. I always say that the only ones who fail are those who stop trying. This tool will support you in playing the game consistently, and noticing when you're not.
It Just Feels Good. Tracking progress with this tool will make you feel good! If you empower this tool, and you are willing to gamify your goals and track your progress consistently, it will feel good. Tracking progress creates a dopamine release through tracking consistent small progress towards meeting our more complex goals that cannot be achieved in one day. Oftentimes, when I need some inspiration in my business, on what I can do, who I should connect with, or a reminder that what goes down will come up I revisit my historic data for a reminder and helpful perspective.
Who is this not for?
I want to be completely transparent and honest with you, and tell you upfront, this is not for everyone. If you know you're not a self-starter and need someone to call you out on your BS before you can empower new tools, then please don't buy this!
I would much rather advise you to hire a coach, find a community or create a support structure that will be sufficient to your level of resistance and procrastination before you spend money on one more thing that will not create change for you.
I am including all of my project management tools and tracking methods. I am also including all of my systems for tracking sales and leads in my business.
For all who take advantage of this introductory offer, you will receive a special one-time invitation for a webinar with me to be trained live in implementing these tools on Friday, January 3rd from 1-2:30 pm ET.
If you've been intrigued by how I seemingly get so much done in my business, this is your key to seeing behind the screen my keys to success. 
This will be your only opportunity to get access to this project management tool at the price of $99 with live in-person training to implement it.
Let's start the new year off right together! I hope you'll join me.

P.S. Stay tuned for next week's newsletter! I'm so excited to share with you my special project management tool that helps me internally run my business.
---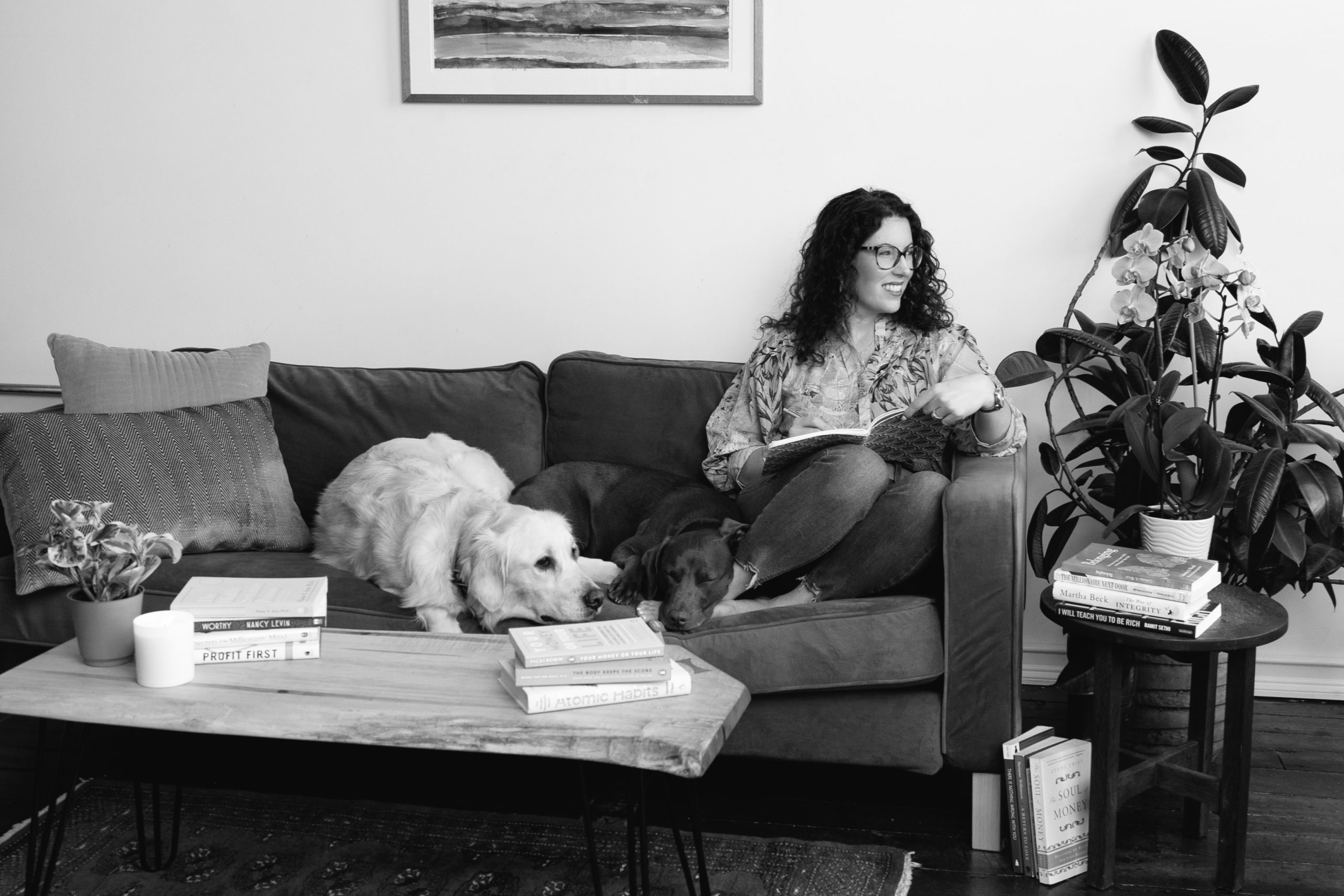 Get the Essential Reading List for Ambitious Empaths
Snag a copy of our favorite confidence-building + intuition-honing business, money mindset, and leadership books to help you embrace a holistic approach to your success. Grab a cup of tea and let's reverse engineer your life, removing the hustle and grind and replacing it with more joy and leisure.
Creating Transformational Group Containers with Kerry Dobson
Have you been thinking of adding a group program to your business offerings (or even investing in one)? This episode of The Prosperous Empath is for you! I'm honored to have Kerry Dobson, a coach who supports authors, coaches, and other thought leaders in crafting & leading their own group certification programs, on the show. After hosting over 100 professional groups in her career, Kerry has so much insight into what makes a group course successful for the leader and the participants via igniting passion and creating long lasting & impactful connections. Just by listening, you can hear the care and expertise she brings to this work. Your programs can be just as transformational as your 1:1 offerings, consider today's episode as a resource to help you get started on creating your own!  
Visit this episode's show notes page here.
The Prosperous Empath® Podcast is produced by Heart Centered Podcasting.