The UNBOUNDED Mastermind
Experience unprecedented levels of impact, joy, alignment, and prosperity
Hey there go-getter
Looks like you're on the brink of a quantum leap
You put your all into it and you've done incredibly well for yourself, and now you're ready to unlock that next level of growth – transform those edgy feelings into that "I got this" fist pump.
And you've realized that this time you need a two-fer: transformative inner work and a high-caliber community that supports, sees, and challenges you.
Because while you adore the intimacy of a 1:1 coaching partnership, you believe that watching other brilliant women in action and learning from them can give you the vetted shortcuts and resources you've been looking for.
Besides, wouldn't it be amazing to hang out with a sisterhood who just gets it? The challenges, the heartbreaks, the thrill, and the absolute JOY of watching your impact play out…
Welcome, you're in the right place.
105 Minute Group Calls: Each month, we host multiple group coaching calls. On each of these calls, you'll receive direct support from Cat and Laura that is designed to move you powerfully forward and support you in leveraging your time and talents to maximize your impact and your joy.
Two Private Intensives: Your intensives can be held at any point throughout your program. During this time, you'll get crystal clear clarity on your strategic plan, where you're headed in your business, and how you'll get there.
24/7 Access: to private Mighty Networks platform for connection and collaboration amongst entire Unbounded community. This is an incredibly supportive and generous space to celebrate wins, idea share, get feedback on offers, pricing and so much more, and network with likeminded ambitious empaths on a similar mission.
BONUS: Full Access to the Resource Vault
Full Access to Resource Vault: CHOCK FULL of content, tools, systems, special guest trainings and accompanying handouts, and bite-sized video recordings to support you in growing your business with alignment, collaboration, and joy.
Unbounded is the ultimate spot for togetherness
Celebrate and be carried forward by each other's successes, get coached, get deeply supported, and network with value-aligned business besties – to finally step into your quantum next level.
Coaching for monumental shifts
You'll be coached by Catherine (founder, Master Certified Coach) and Laura (co-coach, Professional Certified Coach) to honor your desires, energetic capacity, and make strategic moves that skyrocket your wealth as well as your overall well being.
A leader in each chair
Show up as an expert, speak your truth fearlessly, and swap wisdom and resources with other badass CEOs. Dive in to solve problems in our Mighty Networks community or ask for help from your brilliant sisters.
A mirror for each other
Be fierce advocates and mirrors for each other - the blocks and breakthroughs you see in others are a reflection of your subconscious. Find opportunities to grow and celebrate at every step.
A playground for all your bold ideas
Brainstorm, create, get feedback on all your big ideas before sharing them with the world. We're all invested in each other's success and LOVE celebrating your wins!
Feel seen like never before
This is a container for empaths and HSPs facilitated by someone just like you - founder Catherine Wood, who has a gift for bringing the right people together. Here we operate from a place of empathy, emotional safety, and care all day, every day.
Partnerships for life
Our alumni continue to collaborate with and hire each other, show up for support just because, and drop each other's names in rooms full of opportunities because they develop an unshakeable bond in this one-of-a-kind container.
This is an invitation for you…
This community is for big-hearted women who identify as empathic and want to do business and life fundamentally differently.
You care deeply about the world and the contribution you want to make in it. Your values and integrity mean everything to you.
You are already established in your service-based business and you are finally ready to take it to the quantum next level.
You know that no one strategy fits all and you are not looking for someone to tell you what to do. What you really crave is the coaching, community, and connection to propel you forward.
You'd rather laugh about and see the beauty in your imperfections than commit to that illusive perfection one more day. You know that the more FUN you have in business, the sooner you'll succeed.
You love networking and seeing others win as much as you do. Making a perfect connection between peers fuels your soul and seeing others earn REAL money inspires you because proximity is contagious.
In Unbounded we do things differently
We care about creating an experiential journey that adapts to your unique lens, challenges you, and helps you step into a new level of self-trust and embodiment – while tapping into the vast wisdom of your own self and your peers.
This is a year-long program where quantum leaping and how you get there will depend completely on you because you bring a unique lens for business based on your expertise and lived experiences.
Unmatched support while you take ownership of your dreams is what we do best, and we bring that into this mastermind as well.
Each month, we will identify and focus on topics based on the group's needs. Some of the potential topics include:
Desire and pleasure and how it relates to quantum leaping
Wealth consciousness and receiving
Project planning and biz goals that inspire you
Cultivate a harvest vs hunting-based marketing approach
Business boundaries and systems that stick
Support, growing a team + delegating responsibilities
Master your time + energy by focusing on being over doing
Design a sales approach that feels good to you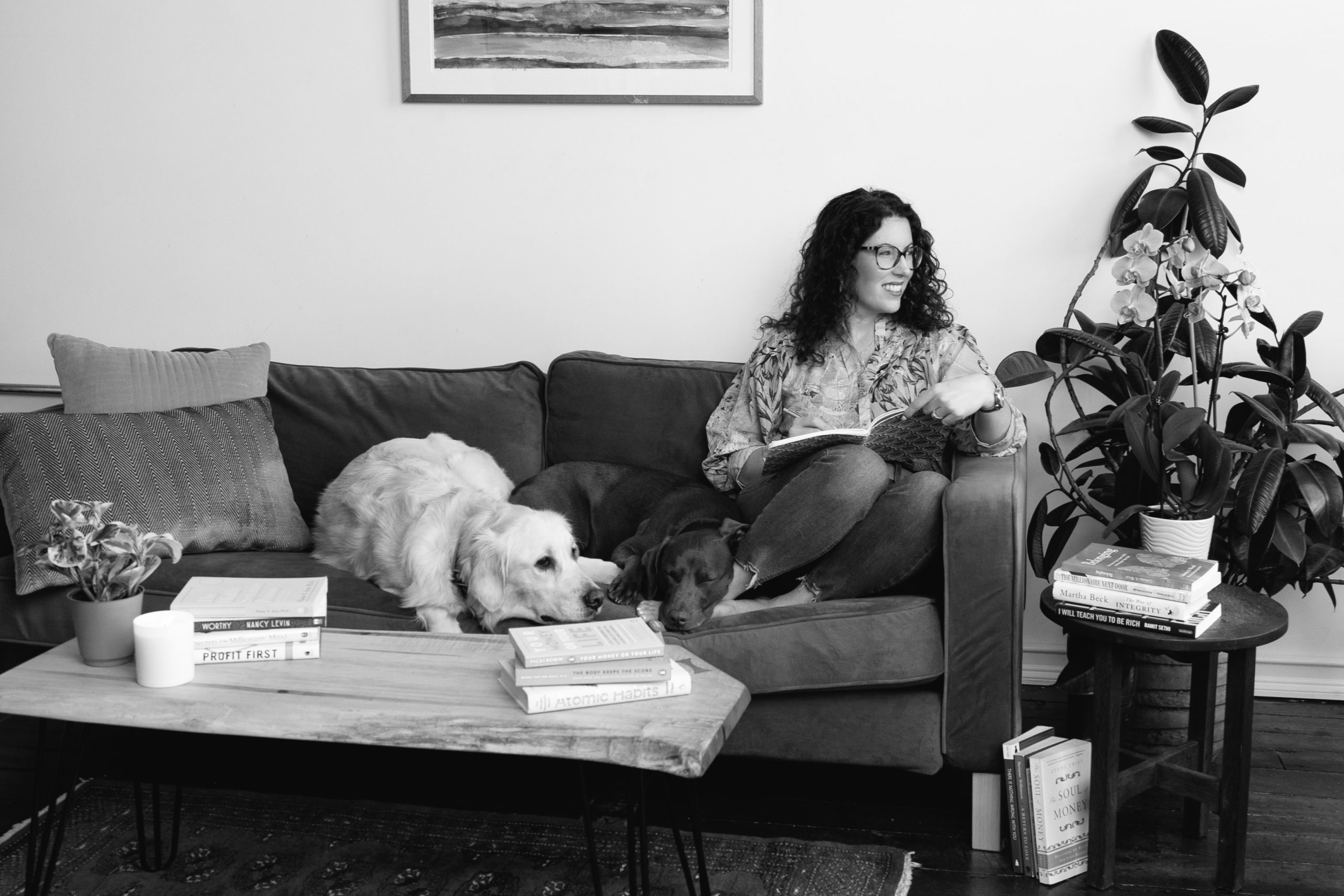 FREE download
On our Masterminders' Bookshelf
Get instant access to a curated list of needle-moving books that's essential reading in the UNBOUNDED Mastermind.
Thoughtfully divided into categories – Health & Wellbeing, Love & Relationships, Money & Finances, Leadership, Spirituality, and more – so you can start creating a foundation for the life and business you've always wanted intentionally.
"In one-on-one coaching, you learn so much about yourself and get so many breakthroughs, but they're different learnings. In Unbounded, I learned how to relate to myself in a community of other powerful women and grow from it. That's why I decided to join Unbounded a second time."
Working with Cat, I've learned that coaching is a lot about self-knowledge. And Unbounded gave me that opportunity to develop self-knowledge as a...
Working with Cat, I've learned that coaching is a lot about self-knowledge. And Unbounded gave me that opportunity to develop self-knowledge as a leader in community with other powerful women.
 
We had incredible, real conversations and our bond is special - with an intimate group, you really get to see the dynamic evolve.
 
In the mastermind calls, we talked about finances, our relationship with money, and sales cycles. But it wasn't just a straight up, one-size-fits-all tutorial. More like a guided how-to to integrate them into the larger picture of how we want our lives and businesses to be, which was incredible."
Read More | Read Less | Read The Case Study
Liz Rohr
Meet Your Coaches
Catherine Wood
Master Certified Coach
Hey hey, I'm Cat! I'm the Founder & Head Coach of Unbounded Potential, Master Certified Coach, author, certified kundalini yoga instructor, and community curator.
As an empath, introvert and HSP, I not only understand but celebrate the gift of being a deep thinker and processor. And, as a coach – who is no stranger to walking the talk – I hold you accountable to your goals when your gifts get in your way of taking action.
Laura Kline-Taylor
Professional Certified Coach
Laura helps career-driven women who dare to have it all set the stage for a powerful next transition. Whether it's birth, a new job, new parenthood, successful reintegration into a career, a bold life, or relationship pivot, it can be done without all the set-backs and the trade-offs we fear.
Cat has had the honor of personally coaching and collaborating with Laura over the years (since 2014!) and she is a soul sister.
It is time to get your head and heart around what you deeply want and design the business and exquisite lifestyle that will ensure you achieve it
Because if there's one thing the pandemic has taught you, it is time to stop playing games with your joy and soulful satisfaction.
looks like bringing to life the full expression of your gifts and desires through zeroing in on the high-ticket offer that lights you up and allows you to beam while doing important work in the world.
looks like owning your thriving, in-demand entrepreneurial IDENTITY and stepping into your quantum next level. Start viewing yourself as the badass CEO who is worthy of amassing wealth and attracting dreamy clients you love.
looks like embodying + implementing the business systems and boundaries you *already know* how to, because well, you're finally ready to have it all in biz + life and drop the struggle.
looks like taking ALL the learnings from the pandemic and grounding them into a lifestyle designed around your most audacious dreams and what you most deeply yearn for.
FAQs
What is the weekly time commitment to succeed?
This depends entirely on you and how quickly you want to grow and reach your goals. The more you put in, the more you will get out. The degree to which you show up for your goals and open yourself up to be seen and supported, is the degree to which we can show up for you (and I assure you that there is nothing that thrills us more than seeing and supporting our clients to crush their goals)! That said, we recommend a minimum commitment of 3 - 4 hours per week.
Is this mastermind just for coaches or do you also work with other types of entrepreneurs?
The mastermind is ideal for women in established service-based businesses who have had experience in transformational work or personal development. In addition to working with all types of coaches, we have partnered with entrepreneurs in health care including nurse practitioners and dieticians, brand designers, marketers, social media managers, financial planners, accountants, creatives, and so many more.
Do you guarantee I'll make quantum leaps in my wealth?
No, there are too many factors outside of our control to be able to promise that. Ultimately, YOU are the one who will be showing up to do the inner work and taking the uncomfortable and aligned action outside of your comfort zone (with me + Laura + and your team to support you along the way). That said, these are results I have created and have supported mastermind clients to create and I do not accept clients into our practice who I do not deeply sense we can support. If you have a deep desire and heartfelt commitment to your results, it is only a matter of time before you achieve them. This container will accelerate the velocity + joy with which you get there.
Will there be any in-person component to the Mastermind?
There is the possibility of coordinating an in-person retreat in the Mastermind, if there's full attendance and it's safe to do so. There would be an additional cost to cover food, lodging, travel, and any excursions planned. You would be required to show proof of Covid-19 vaccination to attend should the group express interest in a retreat.
What is the application process?
Applications are accepted on a rolling basis. Email Cat at catherine@unbounded-potential.com to receive the application. Invitations to join the mastermind are made on a rolling basis.
Ready to experience quantum growth at the intersection of kindness, caliber, and community?
Get instant access to Boundary Bootcamp
We totally get it – you're so ready to break up with permission culture and begin doing things your way. Truth? It starts with setting bigger goals discovering, defining and defending your boundaries.
Join Catherine for the next 5 days with daily audio lessons and worksheets that will help you identify how your boundaries were shaped and reclaim your time and energy.
This bootcamp is perfect for you if you want to…
Own your voice and desires
Take time off without feeling guilty
Practice self-care that's not only good for the 'gram but for your body and soul
Lean into aligned leadership
Create a solid foundation for the life and business you've always wanted
AUDIO TRAINING
Entrepreneurship on Accident with Morgan Specht
I always appreciate the reminder that for some of us, we find entrepreneurship by accident. This certainly wasn't the case for me, but it was for today's guest, Morgan Specht. Morgan, owner of Specht and Co., found entrepreneurship by accident when she realized the life of corporate marketing wasn't for her. I only recently connected with Morgan, but we were able to speak deeply and to the heart in today's episode. You'll hear how she upgraded her business boundaries, finds aligned clients, and how to grow your business in a way that feels good despite what traditional business advice tells you. Happy listening!
Visit this episode's show notes page here.
–
The Prosperous Empath Podcast is produced by Heart Centered Podcasting.