Nov 14, 2018 | Your Relationships
Holding Onto Tension
I woke up this morning before dawn with that familiar feeling of tension. Unable to sleep—not really awake—it hit me.
I was just holding onto stuff.
In this little epiphany, I saw how oftentimes we hold onto energy, experiences, obstacles, stories from our past…that prevent us from powerfully moving forward in life or from deep sleep in this morning's case for me…
We think, "Oh, there's no time to journal or meditate or exercise because there's so much to do!"
And there is, right?
There's always so much to do.
And, there always will be.
The thing is, in these moments when we're holding on to so much stuff, it almost pulls us back rather than allowing us to move forward. So, even when we propel into action and try to tick items off the to-do list, everything seems to take more time and you lack the focus to finish any one thing, especially the most important things.
Do you know what I mean?
I had that experience myself this morning.
So, I took a luxurious hour this morning. I lit a candle, got a cup of green tea and a glass of water, and I got really clear about the things I was holding on to—what they really mean meant, what I was making them mean about me, and how I was making myself wrong for all of it.
And I realized that they were all stories.
Oftentimes, the meanings we attach as humans…it's simply not the truth. It's just our own interpretation.
We are meaning-making machines.
When we can separate the meaning, things start to become clearer. So, next time you find yourself in a similar place, consider taking on one of the following practices:
Journal down all the things you're holding onto and identify whether they are stories or the truth
Do a morning meditation
When you notice you're holding onto a lot of energy around something, take a walk or go for a run (one of my favorites)
Or, just pause
And, if you think you don't have time for any of those things, consider that you don't have time not to do it.
To reclaiming your time and energy,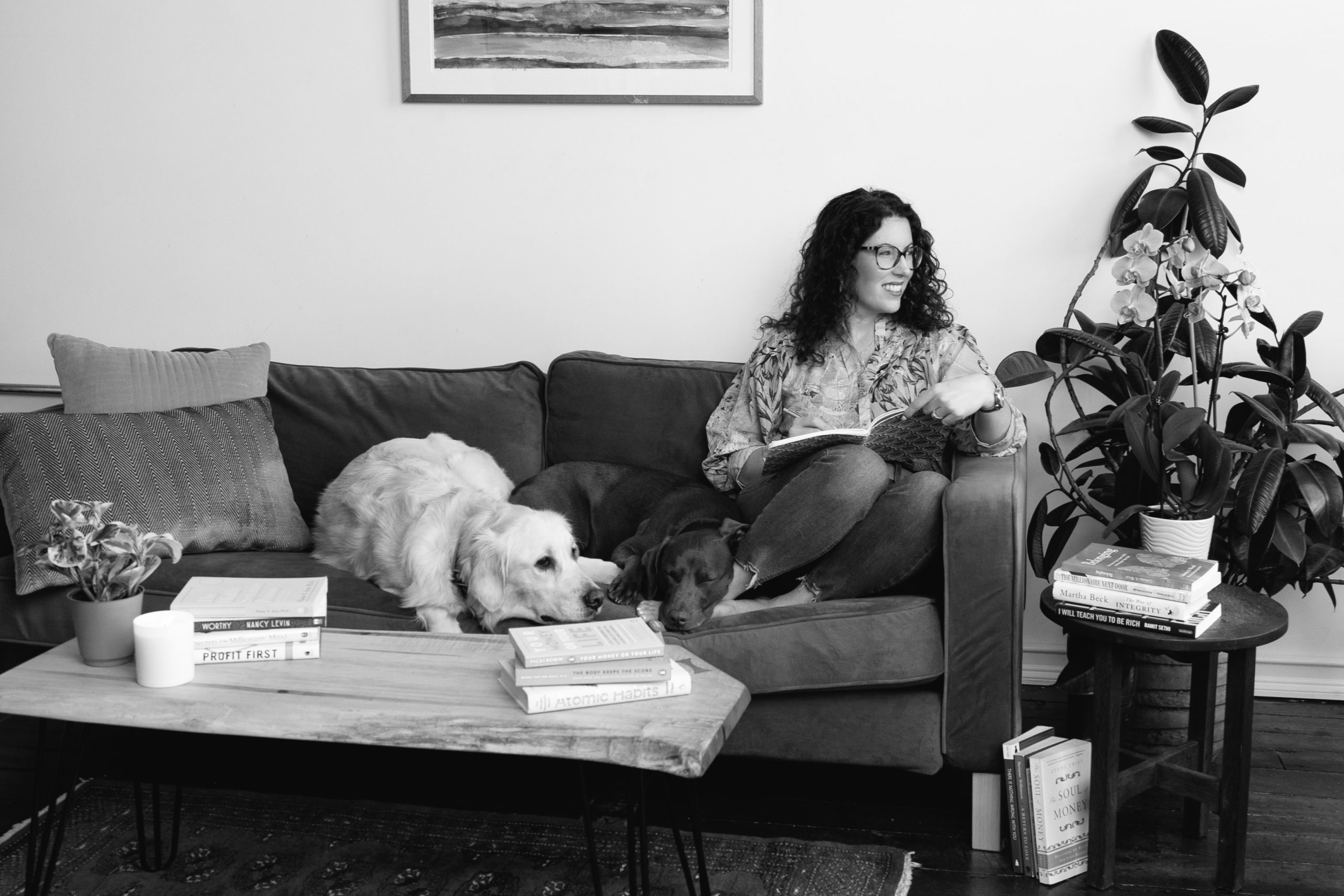 On our Masterminders' Bookshelf
Get instant access to a curated list of needle-moving books that's essential reading in the UNBOUNDED Mastermind.
Thoughtfully divided into categories - Health & Wellbeing, Love & Relationships, Money & Finances, Leadership, Spirituality, and more - so you can start creating a foundation for the life and business you've always wanted intentionally.
The Possibilities of Cycle Tracking for Your Business and Life with Laura Kline-Taylor
In a previous episode of the podcast I shared how it took 37 rejections before I finally landed my first client. That first client? Laura Kline-Taylor Roethel – which is why I'm beyond honored to have her on the show this week. Laura is a Life & Business Coach who specializes in supporting women who are spiritual entrepreneurs and entrepreneurial spirits who are interested in keeping motherhood powerful while remaining career driven. In our conversation, Laura is sharing her expertise of cyclical living and how this has created major shifts not only in her business, but in her life. Her teaching on this topic has endlessly grounded and motivated me and I hope it does the same for you.
Visit this episode's blog post here.
Connect with Catherine on Instagram: @unboundedpotential