Nov 14, 2018 | Your Relationships
Gratitude Versus Anticipation
Today I'd love to talk about living from gratitude versus anticipation.
As I prepare to leave for the Dominican Republic on Saturday to co-lead my second annual coaching retreat, I am very present to a determining factor in life—if we focus on what we haven't yet created or what we don't have, we end up creating more of that experience.
On the flip side, when we focus on what we're committed to and what we really want, we create new possibilities to figure out the "how."
I truly believe that what you focus on expands.
When I lived in Dominican Republic for 4 years, I always knew I would go back. After I served as a Peace Corps volunteer, I worked in sustainable ecotourism for two years. When I left the Dominican, I didn't know in what capacity I would return, but trusting in my beliefs and moving forward in service of my commitments, the "how" eventually figured itself out.
I made it happen.
Here I am launching my second annual coaching retreat at a sustainable tree house resort that supports local Dominicans and supports the local economy.
It just wasn't predictable.
It certainly wasn't anticipated that I would get to lead this life full time. I am filled with immense gratitude for this life I've created for myself.
I am also present to how many people are resigned to the life that they are currently living instead of getting crystal clear about the life they want to create. So many people are standing in their own way and have not stepped outside of their comfort zone to create new avenues for success and possibility.
If you're feeling that this post is speaking about you, consider ways that you might start moving forward…
…even if you don't know how.
…even though you might not even know what it is that you want.
If you're feeling unhappy, you might start there and focus on one area of your life where you know you'd like to make a change. Start really committing in that area.
For me, it was almost more than 7 years ago now when I first started realizing I was unhappy and needed to make a change.
The place that I started was running. I had never known myself to be a runner, and a year later I had successfully completed my first marathon and really started gaining access to that confidence muscle we're talking about.
Here's the secret: You have to take acts of courage to build confidence.
Confidence is not something that you either have or don't have; it comes as a result of taking action in the absence of knowing and then creating confidence as a result of those actions.
So, what is it for you?
To creating a life of gratitude,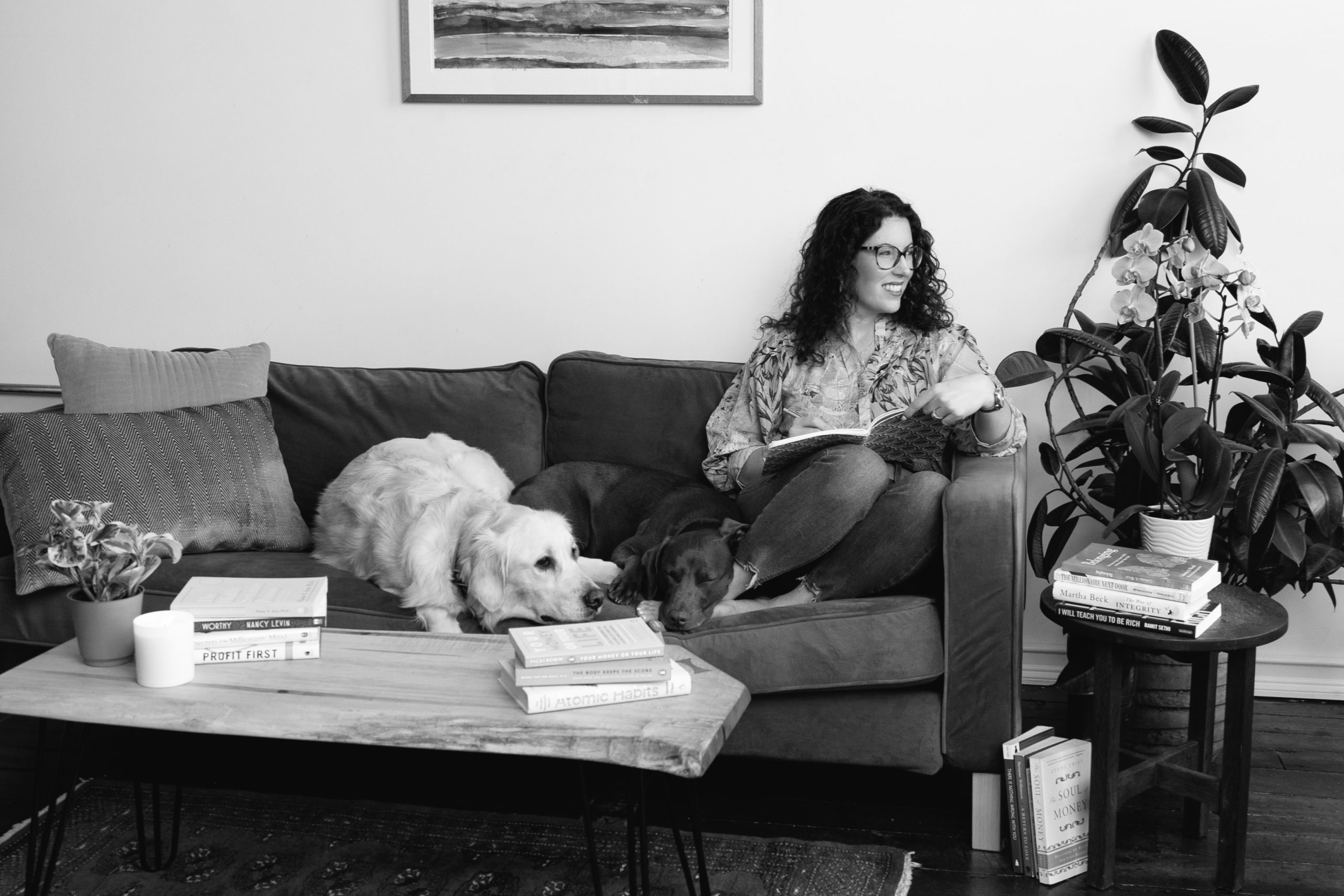 On our Masterminders' Bookshelf
Get instant access to a curated list of needle-moving books that's essential reading in the UNBOUNDED Mastermind.
Thoughtfully divided into categories - Health & Wellbeing, Love & Relationships, Money & Finances, Leadership, Spirituality, and more - so you can start creating a foundation for the life and business you've always wanted intentionally.
The Possibilities of Cycle Tracking for Your Business and Life with Laura Kline-Taylor
In a previous episode of the podcast I shared how it took 37 rejections before I finally landed my first client. That first client? Laura Kline-Taylor Roethel – which is why I'm beyond honored to have her on the show this week. Laura is a Life & Business Coach who specializes in supporting women who are spiritual entrepreneurs and entrepreneurial spirits who are interested in keeping motherhood powerful while remaining career driven. In our conversation, Laura is sharing her expertise of cyclical living and how this has created major shifts not only in her business, but in her life. Her teaching on this topic has endlessly grounded and motivated me and I hope it does the same for you.
Visit this episode's blog post here.
Connect with Catherine on Instagram: @unboundedpotential