Catherine A. Wood
Fear As a Compass
The darkness of the beautiful, warm evening wrapped around me, and I remember thinking, "Here are ten human beings lying on their yoga mats, eyes closed, with a candle lit by each of their faces, waiting, waiting, waiting, for Megan or I to speak. No idea of what is to come or what we are going to say."
They were simply lying there, trusting that we had them, that we knew what was coming next.
I knew I had the complete trust of my coaching partner…
And yet, I noticed I was terrified.
Scared to speak and scared to let them wait one minute longer.
Fear is a constant battle for me, in this coaching work and in this game of living a big life.
Speaking aloud the thing I observe about a retreat participant because it may be the greatest obstacle standing in the way of that person living truly fulfilled life…
Reflecting something that could be the greatest breakthrough of this person's life if they opened themselves to the possibility of allowing us to make a difference for them.
This work—this coaching thing—is not easy, but I am profoundly grateful for it every day.
I facilitated a guided meditation for our travelers in the Dominican Republic earlier this week. This is something that completely would have been outside of my comfort zone before coming to this world of coaching.
Now, I simply allow myself to feel the fear and go do the thing I'm scared of.
My experience is that many individuals are so scared of saving face and maintaining appearances or looking good…
…That they allow fear to win. To hold them back from truly pursuing what they most ardently desire…
Be it, a committed romantic relationship;
The willingness to go after their dreams or pursue their passion project;
 Fully committing to their own wellbeing or physical health, which they know would have a positive impact in all the other areas of life as well.
For me, this is what these transformational coaching retreats are all about.
A firm commitment to living the life you truly want to.
To being deeply happy in life, in relationships, in your career, and everywhere in between.
A willingness to stop settling for the hand that you have been dealt in life and the readiness to create the life you want, one by your own design.
What I like to say is that, if you're afraid of something, you're probably on to something…
So many times, we use fear as a compass and allow ourselves to turn the opposite direction. Certain to continue walking our usual path, certain to create more of the same.
This past week has been a calling forth for me to see the fear and lean into it. To allow fear to be a guiding light.
Whether that showed up in saying the thing she was afraid to say; doing the thing he was terrified to do… this is what these retreats are all about for me.
And I got to practice too, whether it was in facilitating a guided meditation about reaching new heights and overcoming mental blocks, in driving an ATV through pouring rain, or in making a bold reflection from coach to one of our trip participants.
Life was never meant to be easy. You were not meant to settle.
Life is an adventure. One that you wake up in the morning excited to live, whether it be in a tree house in the rainforest or from the comfort of your own home.
Fear is a shining light that guides you forward, not one that makes you turn back one more time.
What I want for you is that sense of deep fulfillment and happiness that is only possible from truly living life to the fullest. One that requires willingness for discomfort, failure and growth.
I know that's what I'm committed to. And did I get to practice lots over the past couple of weeks…
Let me tell you, it is the only way.
The only way we're going to make humanity better is by making the difference that only we can make.
The only way we're going to make a difference for future generations is by not allowing ourselves to make the same mistakes and settle for the same things that our ancestors did. 
And the only way we're going to live without regrets is by allowing ourselves to experience fear as a flashlight that guides us forward with no looking back. 
What is the dream you have for your life that you know is calling you forth?
Where are your resisting your own brilliance and greatness because you're more occupied with saving face and maintaining appearances?
The time has come to create a life you truly want.
It is the only way for you to unleash your greatest gifts.
To fully living.
ARE YOU READY TO TRULY CREATE YOUR PURPOSE-DRIVEN BUSINESS ON YOUR OWN TERMS?
Inquire about our UNBOUNDED Mastermind & Group Coaching Program.
Get ready to think bigger, dissolve limiting beliefs, & welcome an upgraded mindset to become the architect of your non-negotiable dreams.  Eliminate once and for all the hustle-and-grind mentality & step into a higher consciousness that magnetizes clients and opportunities to you.  Join our community of heart-centered CEOs and expand your high-vibe network with aligned partnerships, business collaborations and lifelong friends.
Catherine is a Master Certified Coach and bestselling author of Belonging: Overcome Your Inner Critic and Reclaim Your Joy.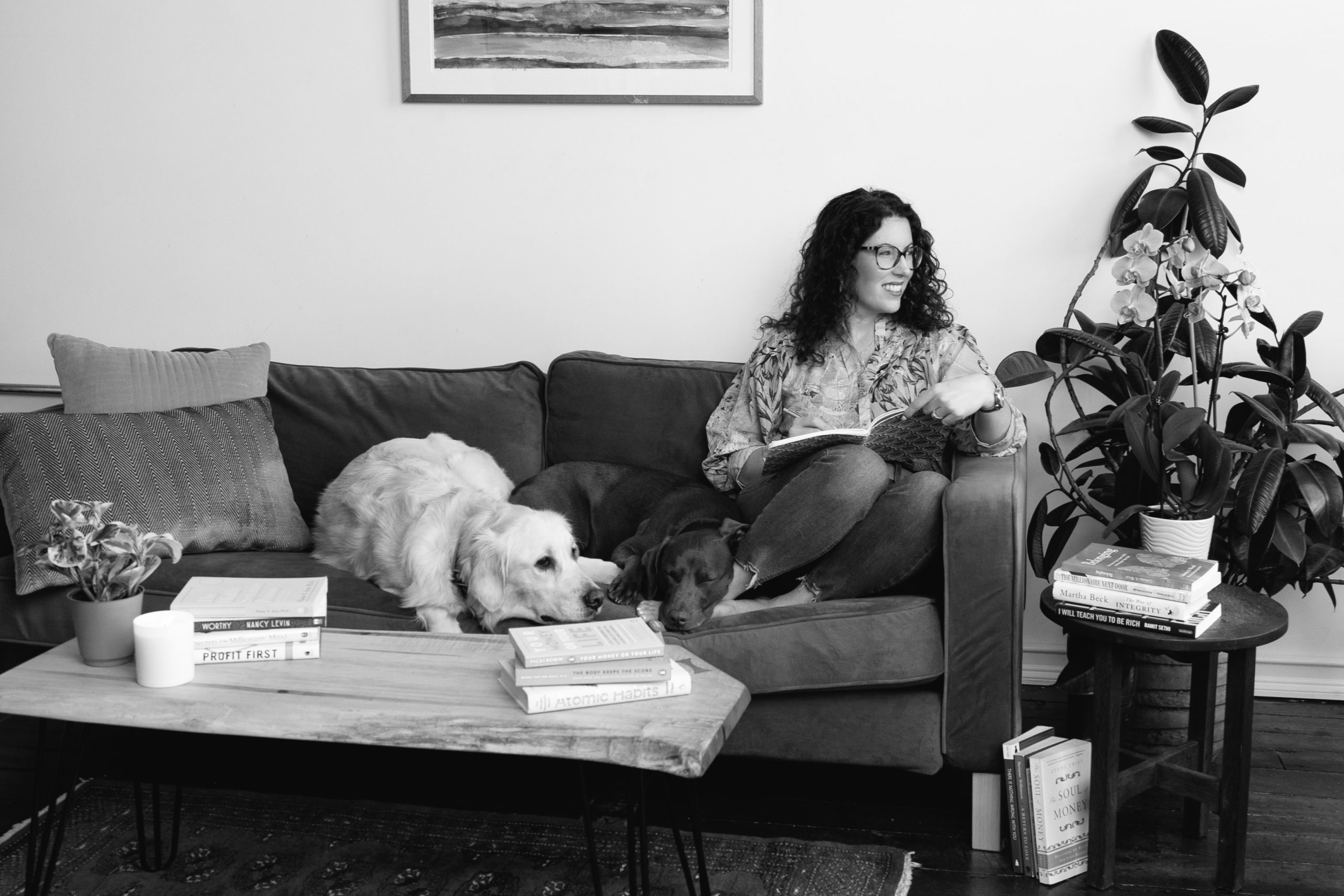 Get the Essential Reading List for Ambitious Empaths
Snag a copy of our favorite confidence-building + intuition-honing business, money mindset, and leadership books to help you embrace a holistic approach to your success. Grab a cup of tea and let's reverse engineer your life, removing the hustle and grind and replacing it with more joy and leisure.
Creating Transformational Group Containers with Kerry Dobson
Have you been thinking of adding a group program to your business offerings (or even investing in one)? This episode of The Prosperous Empath is for you! I'm honored to have Kerry Dobson, a coach who supports authors, coaches, and other thought leaders in crafting & leading their own group certification programs, on the show. After hosting over 100 professional groups in her career, Kerry has so much insight into what makes a group course successful for the leader and the participants via igniting passion and creating long lasting & impactful connections. Just by listening, you can hear the care and expertise she brings to this work. Your programs can be just as transformational as your 1:1 offerings, consider today's episode as a resource to help you get started on creating your own!  
Visit this episode's show notes page here.
The Prosperous Empath® Podcast is produced by Heart Centered Podcasting.