Before There is Wealth, There is...
Soooo, let's talk about money today. Because we all know that money talks, right?
The first time I invested forward in my business and shared with my then boyfriend that I had $30,000 in credit card debt and was ashamed to admit it to him, I cried.
He was fine with it, it was me who wasn't.
I guess technically it was the second time. I had taken a similar financial risk two years prior when I took a bet on me and signed up for a high-end coach training program.
The difference between the two is that I wasn't surrounded by a team of colleagues who were taking the same level of risk and talking about it openly.
There's something so powerful about acknowledging what's so and accepting what is, so we can make space for what we really want without shame or guilt, amiright?
I see this in every area of life and business with clients, but particularly with money.
And listen, I get it, it's uncomfortable talking about money, and particularly for women who have only had access to financial pursestrings for the past five decades.
On top of that, we place a lot of emphasis on our business success on the revenue we bring in, the profit margin we make, and the percentage gain in sales year-over-year.
And while it's certainly not everything (Creating a purpose for the presence of money in your life, rather than a need for it is one of my maxims in the UNBOUNDED Mastermind), you absolutely deserve to prosper and grow your generational wealth.
If you've been reading my newsletter for a while now, you likely know a bit of my story. I came to coaching through the world of economics and finance, initially thinking I wanted to be a financial coach. I dreamed of helping clients transform their self-worth so they could grow their net-worth.
You've likely noticed that I've been recommending books on wealth consciousness in the What I'm Enjoying section of the newsletter.
But simply put, what we focus on expands.
One of the lessons on wealth consciousness that has stood out for me is how much more comfortable rich people are talking about money.
And before you say it, I totally get it. It would naturally be easier to talk about money when it's working in your life rather than harboring shame and guilt. But all rich people weren't always rich. We all know people in our lives who grew up with nothing and transformed their financial situation.
I guarantee you that one of the pieces that helped those individuals was having the willingness to talk about it. It's invaluable to share with a trusted mentor, coach, therapist, or financial advisor (hopefully a fiduciary). And have your progress recognized and acknowledged along the way.
All this to say, in 2021, I have noticed a transformation in my business, in my relationships with clients, in my client's success, and particularly with regards to money.
Here's what I've noticed…
In my relationships with clients, we talk about money a lot more than we have in the past.

Many of the clients in my practice have been working with me for multiple years, which potentially makes having conversations around money easier with someone you know on a deeper level.

In my personal growth as a coach, I've gotten a lot more comfortable asking clients direct questions around their finances (even if they don't bring up the topic); challenging them around not paying themselves, reinvestment decisions, and not rewarding themselves for progress made along the way; and similarly clients are more proactive in bringing up their finances.

And finally, I notice I'm more transparent with clients around financial milestones in my own business. I even have clients who want to know my business investment choices, and another who sends me tax strategies (the benefits of working with a CPA)!
Many of my clients reached epic financial milestones this year. Certainly more than I've ever experienced in one year, which has caused me to stop and reflect – what's different, coach?
A couple clients changed jobs and negotiated generous raises (one was 30K for the same line of work).

Dream homes were manifested and purchased. Investment properties established.

Client practices filled.

One client crossed the ½ million mark in less than three years in business.

Another client contracted over $80,000 sales in one month.

One client crossed the 6-figure mark for the first time. Another client crossed the multiple 6-figure mark for the first time.
And I could keep going…
Now you may be wondering what my point is today?
I want to share what I've noticed has contributed to this transformation so that 2022 may be prosperous for you. Many clients, myself included, have overcome financial struggles and learned to get comfortable with risk and betting on ourselves.
Here are 8 best practices and habits that have supported this transformation. These are the practices that feel distinct and necessary if you're committed to prosperity. You must above all be willing to relate to yourself as the source of achieving it. I hope you enjoy these Prosperity Practices:
Do not underestimate the necessity of your mindset being aligned with your vision. What you focus on, expands.
Create a purpose for the presence of money in your life rather than a need for it.
Pay yourself first. Month after month. Read Profit First while you're at it, it's required reading in our mastermind.
Get comfortable talking about money and celebrating your progress and wins along the way. In my experience, it's the shortest route to acclimatizing to new levels of receiving and retaining wealth.
Be out loud with your financial goals with yourself, your partner, your coach, your trusted peers, your mastermind, and whomever else is in your inner circle.
If you are a coach, get comfortable asking your clients direct questions about money and how they're growing their wealth. If you shy away from these conversations, you are limiting yourself and your client's potential.
Grow your financial literacy. Read books on wealth consciousness, take courses, and hire support if you're not reliable to implement what you learn.
Don't be afraid to take a financial risk and bet on yourself. The data suggests rich people are more comfortable with risk taking, this is a learnable skill set.
ARE YOU READY TO TRULY CREATE YOUR PURPOSE-DRIVEN BUSINESS ON YOUR OWN TERMS?
Inquire about our UNBOUNDED Mastermind & Group Coaching Program.
Get ready to think bigger, dissolve limiting beliefs, & welcome an upgraded mindset to become the architect of your non-negotiable dreams. Eliminate once and for all the hustle-and-grind mentality & step into a higher consciousness that magnetizes clients and opportunities to you. Join our community of heart-centered CEOs and expand your high-vibe network with aligned partnerships, business collaborations and lifelong friends.
Catherine is a Master Certified Coach and bestselling author of Belonging: Overcome Your Inner Critic and Reclaim Your Joy.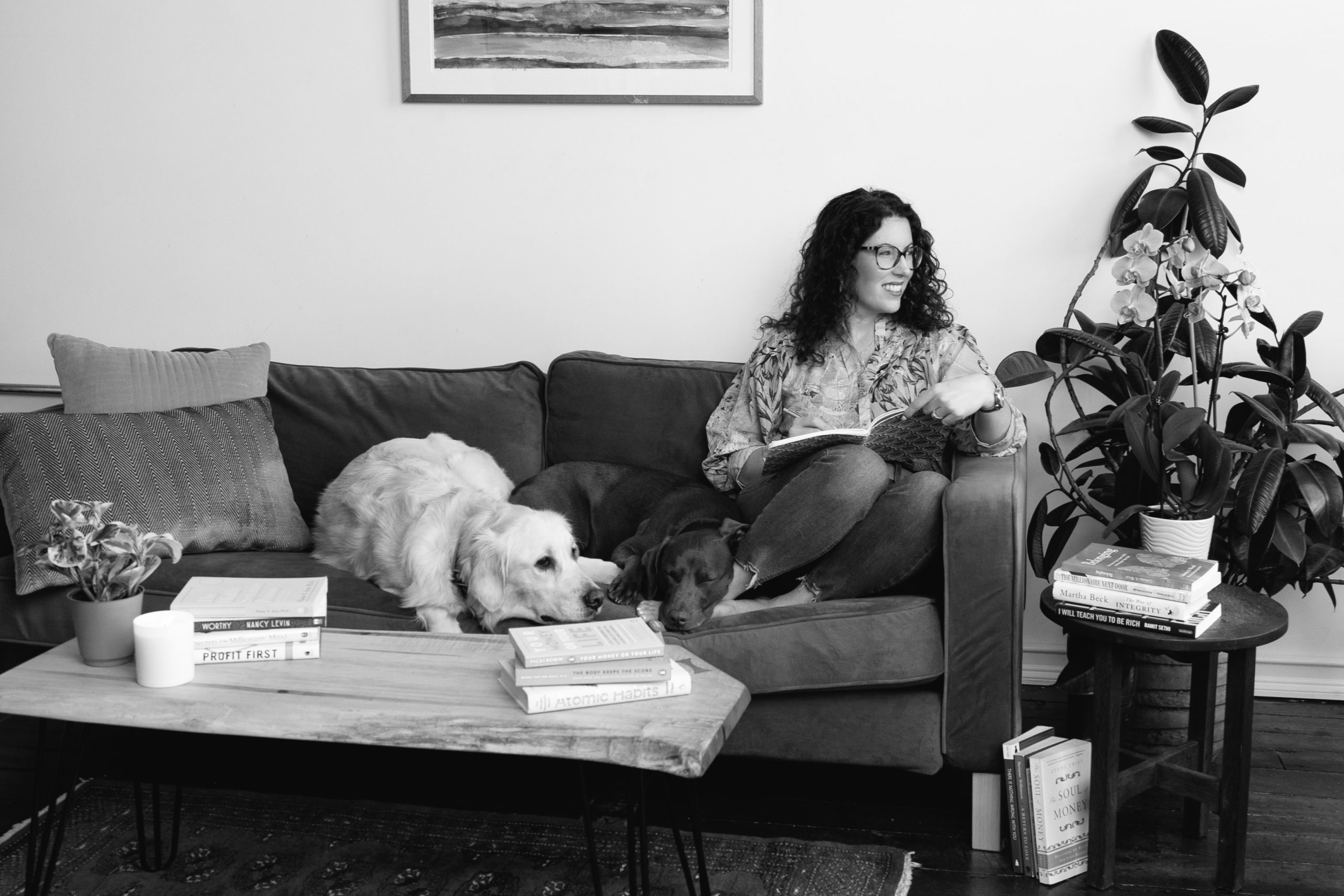 Get the Essential Reading List for Ambitious Empaths
Snag a copy of our favorite confidence-building + intuition-honing business, money mindset, and leadership books to help you embrace a holistic approach to your success. Grab a cup of tea and let's reverse engineer your life, removing the hustle and grind and replacing it with more joy and leisure.
Creating Transformational Group Containers with Kerry Dobson
Have you been thinking of adding a group program to your business offerings (or even investing in one)? This episode of The Prosperous Empath is for you! I'm honored to have Kerry Dobson, a coach who supports authors, coaches, and other thought leaders in crafting & leading their own group certification programs, on the show. After hosting over 100 professional groups in her career, Kerry has so much insight into what makes a group course successful for the leader and the participants via igniting passion and creating long lasting & impactful connections. Just by listening, you can hear the care and expertise she brings to this work. Your programs can be just as transformational as your 1:1 offerings, consider today's episode as a resource to help you get started on creating your own!  
Visit this episode's show notes page here.
The Prosperous Empath® Podcast is produced by Heart Centered Podcasting.