Nov 01, 2019 | Your Self
Are you compassionate with yourself?
Susan felt she was failing at everything when she and I first started working together. Her marriage was falling apart, she felt tremendous pressure to overperform at work, and she felt that her day always ran ahead of her and she was never able to catch up.
When discussing her morning routine, I could see how frustrated and angry she was when she shared that she regularly hit snooze on her alarm clock because she couldn't get out of bed at 7:30 am.
I asked Susan, "What is your experience of being kind to yourself?"
She was clearly confused by my question and answered that she should just be able to get up earlier and not snooze her alarm.
Sometimes my clients don't understand my questions or the ideas I'm presenting to them, so it's easier to answer a different question.
So I asked her again. "How are you being kind and compassionate with yourself?"
"I don't feel like I deserve to be compassionate with myself," she eventually responded.
Aha! There it was.
Susan was doing what many of us do. She felt she needed to prove herself before taking care of herself.
Do you ever feel like Susan?
→ Do you need to accomplish that next goal before you'll take a closer look at caring for YOU?
→ Are you too busy meeting everyone else's needs, or fulfilling all the expectations others have of you before you can nurture yourself?
I certainly have these tendencies as well.
When I first began my business, I had no sense of boundaries around my time or my well-being. I woke up to work and my life became about my work rather than about me.
I shared with Susan that self-compassion is not a zero-sum game, that self-compassion wasn't something she had to warrant or build a case for why she deserved it.
We began to discover how she would treat herself in the morning if she was more committed to believing she was worthy of being whole and loving herself.
Are you starting your day being compassionate and kind to yourself or are you starting your day grinding and pushing yourself?
You can take action toward loving yourself, and you can start now.
I believe this starts with how you begin your day.
My morning routine has been the key to me learning how to be compassionate with myself.
I'm committed to relating to my morning routine as self-care, self-love, and self-compassion, not a check-list with which I measure myself against. I'm not committed to getting it right. I'm committed to finding a ritual that works for me.
Read that again.
It's not about doing it right. It's about finding a ritual that works for you.
If you want to learn more about what my morning routine looks like, read more here. Use this as a starting off point to build a routine that allows you to take exquisite care of YOU.
You are worthy of taking care of,

P.S. This post (and all of this month's newsletters) are excerpts from my book that I just submitted the first draft manuscript for yesterday!. Stay tuned for more updates in the coming months! I can't wait to share more with you as we approach publication in the spring.
P.P.S. UNBOUNDED starts next Wednesday, and registration will remain open until the program fills or year's end, whichever comes first. I expect to fill soon! Click banner below for more info.
---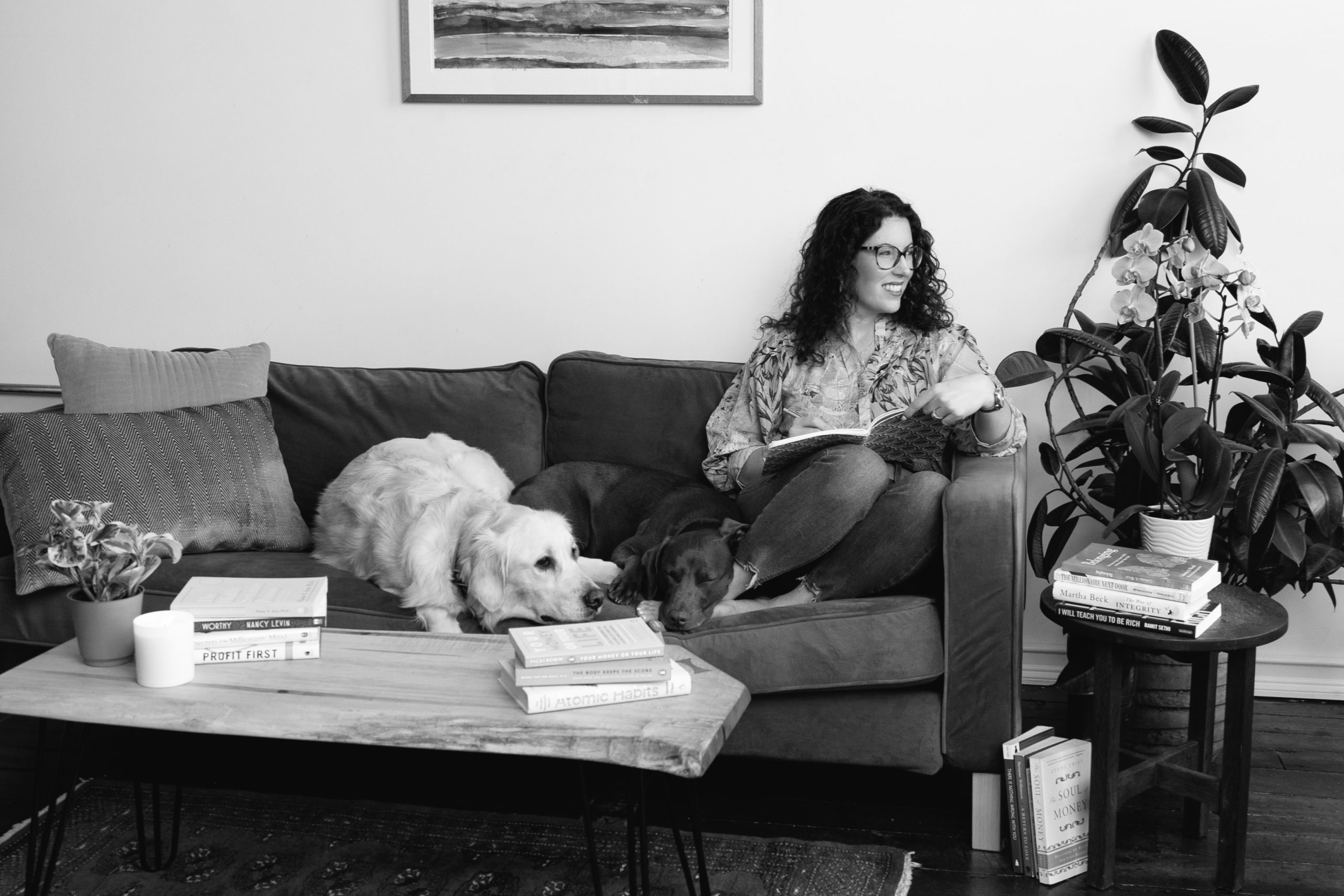 On our Masterminders' Bookshelf
Get instant access to a curated list of needle-moving books that's essential reading in the UNBOUNDED Mastermind.
Thoughtfully divided into categories - Health & Wellbeing, Love & Relationships, Money & Finances, Leadership, Spirituality, and more - so you can start creating a foundation for the life and business you've always wanted intentionally.
The Possibilities of Cycle Tracking for Your Business and Life with Laura Kline-Taylor
In a previous episode of the podcast I shared how it took 37 rejections before I finally landed my first client. That first client? Laura Kline-Taylor Roethel – which is why I'm beyond honored to have her on the show this week. Laura is a Life & Business Coach who specializes in supporting women who are spiritual entrepreneurs and entrepreneurial spirits who are interested in keeping motherhood powerful while remaining career driven. In our conversation, Laura is sharing her expertise of cyclical living and how this has created major shifts not only in her business, but in her life. Her teaching on this topic has endlessly grounded and motivated me and I hope it does the same for you.
Visit this episode's blog post here.
Connect with Catherine on Instagram: @unboundedpotential