Nov 15, 2018 | Your Relationships
An Ode to Being a Boss
Today I want to talk about that point in your entrepreneurial journey when you identify the need to invest in yourself and grow your team.
I remember—it was about this time two years ago in March—when I started realizing that I needed to expand outside of myself if I wanted to keep growing my business. I had reached a point where I couldn't do it all on my own anymore.
That's a huge point in an entrepreneur's journey, and I remember being so terrified at the thought of taking on a contractor or part-time employee.
So, it's with both tons of excitement and some sadness that this month celebrates not only the 2 year anniversary of my first employee, but also the realization that she's ready to focus on and grow her own coaching business.
I'm not only thrilled about her own transformation and jump into entrepreneurship that she's made for herself, but I'm also filled with so much gratitude for having been blessed to be supported by such a magnificent first employee.
I think back on my own journey of being a boss, and it is terrifying at times! As a woman business owner who is finding her business-owner legs and wants everyone to be happy, there is a lot to learn in growing a team.
Not only are you letting people into your business that you trust and that are oriented toward similar values, but you also have the challenges of learning how to communicate and collaborate with others. You learn to be clear in what you're looking for while not making others wrong for their mistakes.
I learned a lot about myself over these past two years of being an employer, and it's been both so gratifying and prideful. I'm so flippin' filled with pride about what's next for this woman, but also about what I've learned about who I am and who I want to be as an employer.
So, I invite you to take a look for yourself. When you grow your business and get to a place of not being able to do it all on your own, who do you want to be as an employer? What type of team will you grow? What kind of people do you want to attract?
I invite you to get intentional with what it is that you're looking for and let go of focusing on what you're not.
I remember my first employee came to me in the most simple and perfect of introductions, one referral and one week after knowing I was ready to expand, I was an employer!
I really do believe that it can be that easy when you know who you are.
Onward and upward,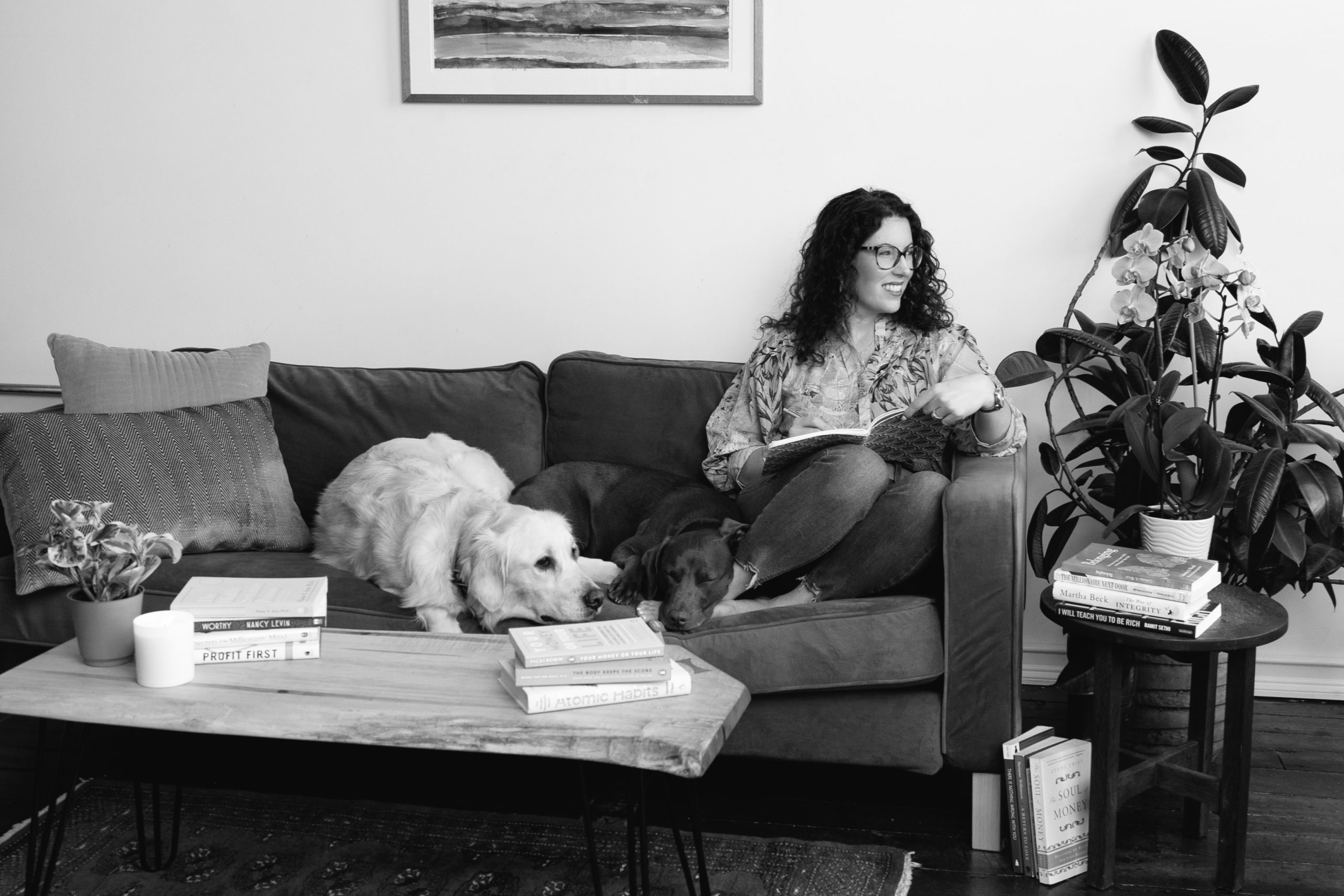 On our Masterminders' Bookshelf
Get instant access to a curated list of needle-moving books that's essential reading in the UNBOUNDED Mastermind.
Thoughtfully divided into categories - Health & Wellbeing, Love & Relationships, Money & Finances, Leadership, Spirituality, and more - so you can start creating a foundation for the life and business you've always wanted intentionally.
The Possibilities of Cycle Tracking for Your Business and Life with Laura Kline-Taylor
In a previous episode of the podcast I shared how it took 37 rejections before I finally landed my first client. That first client? Laura Kline-Taylor Roethel – which is why I'm beyond honored to have her on the show this week. Laura is a Life & Business Coach who specializes in supporting women who are spiritual entrepreneurs and entrepreneurial spirits who are interested in keeping motherhood powerful while remaining career driven. In our conversation, Laura is sharing her expertise of cyclical living and how this has created major shifts not only in her business, but in her life. Her teaching on this topic has endlessly grounded and motivated me and I hope it does the same for you.
Visit this episode's blog post here.
Connect with Catherine on Instagram: @unboundedpotential