May 01, 2020 | Belonging
A Practice in Self Compassion
If you find yourself spinning your wheels at home feeling like you're moving backwards right now, listen up. It's normal! When the universe deals us a pandemic, it's normal that we may revert to the familiarity of our comfort zones. Makes total sense.
I've been noticing with myself and with my clients that we haven't been giving ourselves a lot of self-compassion to be where we are and have that be ok. There's a part of me that wants to ignore all of this too and focus instead on all the exciting projects and plans that I was up to before #loveinthetimeofcoronoa.
Because… it's so much easier to plow forward rather than encounter my feelings and fears, amiright?
But here's the thing, we must accept what is before we can change it, and that oftentimes includes distinguishing and allowing our feelings first.
On that note, I'm excited to share with you this excerpt below from Chapter 17 of my book Belonging: Overcome Your Inner Critic and Reclaim Your Joy.
Often when I use the word vulnerability with clients, they bristle. I, too, can recall posturing with my partner for years until he apologized or made amends for something we were both responsible for creating.
Jett Psaris and Marlena S. Lyons explain this relationship dynamic in Undefended Love when they say, "We turn the focus on our partner's behavior to avoid feeling the pain of seeing ourselves as defective. Trying to get our partners to change their behavior is an attempt to create an environment in which our cracked identities will not get stimulated or revealed. Although it may not make logical sense, we would rather feel hurt or self-righteous than face and work with our own unconscious and painful mis-identities. We would rather accuse our partners of 'always wanting things their way,' or 'wanting too much,' instead of facing the feeling of inadequacy that gets stimulated in reaction to their wanting more."
It took me years to acknowledge the feelings of inadequacy that were triggered each time I had to confess to being wrong or incorrect. I had used this tactic as an avenue to prove my lovability and sense of worthiness for a lifetime, after all. While I certainly still have my moments, I have become practiced at interrupting the thoughts of being right and choosing from personal responsibility and worthiness instead. Today, I want to expand upon the topic of choosing happiness over righteousness.
Much joy, connectedness, and intimacy is available for us all when we can put down the anvil and say, "I apologize. I know my words were hurtful, and I was trying more to defend my wounded ego than to consider your feelings. I'm sorry." The gift of choosing to be in relationship over choosing to be right is so much more meaningful.
Brené Brown's Netflix special, The Call to Courage, covers many of her key points on vulnerability. She says, "Vulnerability is the pathway to being seen and to being loved. To love is to be vulnerable. Many of us would rather not be loved than to risk being vulnerable."
Brown so aptly puts into words what many of us experience when we lean into being vulnerable with our loved ones and then feel even more loved and accepted on the other side. Even when all the signals (read: fear, righteous indignation, stubbornness, ego) shout, "Run, girl, run. What the hell are you thinking? Get outta here," we stay anyway and let ourselves feel all the discomfort of vulnerability, and we are then closest to the love and acceptance we crave.
When we risk being vulnerable, we are on the brink of finding acceptance. Acceptance may be one of our greatest fears as human beings. If we fully accept ourselves, then there's nothing to strive for, nothing to work toward, no meter stick to measure our experience of feeling like an imposter against, and no so-called "perfect" to reach. Cheri Huber says "The reason acceptance isn't more popular is that in acceptance there is nothing to do. In acceptance, there is nothing 'wrong' that needs to be changed, fixed, worked on or otherwise improved. And the simple, astounding, mind-boggling amazing FACT as that as soon as you accept yourself EXACTLY AS YOU ARE, all those 'character flaws' begin to fall away because those 'flaws' exist only in non-acceptance, in self-hate."
Who we are is enough. We belong simply because of who we are. Don't underestimate how challenging that is for many (if not most). We can get uncomfortable with learning to get comfortable with who we are. Have compassion with yourself and allow yourself to process where you are at this moment. Lean into your growth edge.
As Chang Chen-Chi writes in The Practice of Zen, "The greater the doubt, the greater the awakening; the smaller the doubt, the smaller the awakening. No doubt, no awakening." Where fear and doubt would have you run, what would love have you do? Be vulnerable. It's a magical thing when we create a safe container to be vulnerable in because it gives permission for others to do the same. It creates the possibility for self-love, belonging, and acceptance. There is no greater gift than this.
TAKING ACTION: LEAN IN
One of my favorite practices to offer clients in the area of vulnerability is to ask them to write the following question down and post it somewhere where they will easily see it, "What's the most vulnerable thing you can say right now?"
Then, practice speaking from this place. In my relationship, it might sound like this: "I was wrong, I apologize. I'm sorry that it's so hard for me to apologize. I feel like a bad person when I'm wrong and it's difficult to apologize for my actions without it meaning that I'm not an awful human being."
I know the practice may sound simple. Many actions toward growth are simple but rarely easy. The example I've shared above is the hardest thing for me to acknowledge when I'm triggered and generally what I need to acknowledge when I'm triggered, other than express my feelings, of course. Many clients I speak with every week go after perfection and getting it right at all costs, to avoid being vulnerable or admitting responsibility for something they are at fault for.
Today, practice speaking your truth and getting in touch with the whisperings of your heart. This challenge has been life-changing for me, and it is worthy of you too.
Get curious. How many individuals could you practice speaking vulnerably with today? What do you have planned today and where could you practice this? Journal about your experience below. Who did you practice connecting with vulnerably and what did you notice:
In this article series, I share excerpts and stories from my book, Belonging: Overcome Your Inner Critic and Reclaim Your Joy. I hope you enjoyed this post — if you enjoyed what you read, let's connect. You can reach me via email, my website, or connect with me on social: Instagram, LinkedIN, or Facebook. Also, you can also find my book on Amazon — here.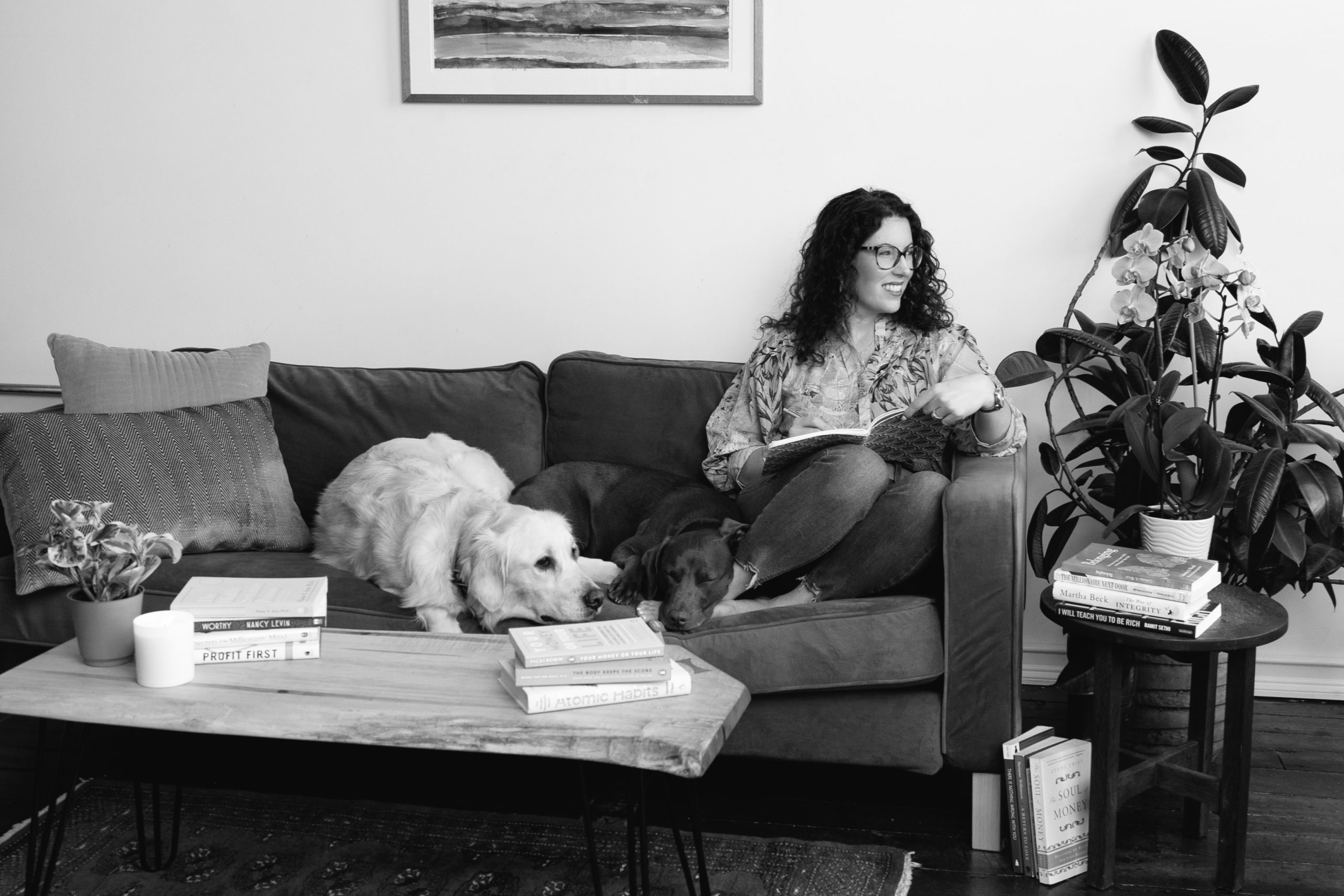 On our Masterminders' Bookshelf
Get instant access to a curated list of needle-moving books that's essential reading in the UNBOUNDED Mastermind.
Thoughtfully divided into categories - Health & Wellbeing, Love & Relationships, Money & Finances, Leadership, Spirituality, and more - so you can start creating a foundation for the life and business you've always wanted intentionally.
Empathy for Change with Amy J. Wilson
I am so delighted and thrilled to have my esteemed friend, Amy J. Wilson here with us today. Amy is a change leader, community builder, movement maker, and an empathy advocate. She is the author of Empathy for Change: How to Build a More Understanding World, a guide to create positive, compassionate change where we work, live, and play. All of this guides our conversation as we cover the different types of empathy and why they are important, dismantling current power structures and rebuilding them with empathy at the core, prioritizing rest, and so much more. Being empathetic does not mean you lack power, and this episode is going to tell you why – enjoy!
Visit this episode's show notes page here.