Law as a Force for Good with Natasha & Ginny
Listen Now:
Watch a Clip:
About the episode
:
I'm so pleased to have Natasha Nazareth and Ginny Bonifacino on the show today. The biggest takeaway from our conversation that I'm excited to share is how the two have built a purpose driven business from the ground up – this is really the story, the heart and soul of today's conversation. You'll hear how they have developed their day to day processes, choosing to become a B corp, and how they cultivate authentic relationships with their clients. These women are not only experts in using law as a force for good, but building a business based in joy. Enjoy!
Topics discussed:
The origin story of Nazareth Bonifacino Law and how their children are at the core of everything they do 

What it means to Natasha and Ginny to build a business based in joy and why they choose not to outsource a lot of client communication 

Overcoming the saying that "business is just relationships with money" and why Natahsa and Ginny don't focus solely on litigation 

How Natasha and Ginny have learned to build an effective business partnership as friends 

Using tools to have less process and more focused time with the people we work with 

Why Natasha and Ginny aim to have fewer clients with whom they have solid relationships in place 

How Natasha and Ginny navigate an industry that isn't always empath friendly 

How Natasha and Ginny advocate for their clients in the day to day 

What a B Corp is and creating a business that is a force for good rather than a force for profit
About Natasha & Ginny:
NATASHA NAZARETH is a co-founder of Nazareth Bonifacino Law LLC. She has over 20 years of experience as a practicing attorney with a focus on corporate & business law, employment law & litigation, and education law.
In the past, Natasha served as General Counsel to the Bullis School in Potomac, MD as well as a University of North Carolina system campus. She is also a former Adjunct Law Professor at North Carolina Central University School of Law. In 2019 her career transition from in-house counsel roles to private practice was highlighted in the Maryland Bar Journal.
Natasha continues to provide general counsel services to a variety of small- to mid-market businesses, independent schools, and nonprofits with an emphasis on transactions, growth and market innovation as well aligning leadership, talent and operations for optimal performance. She excels in conflict resolution and is a senior mediator for North Carolina state government and universities.
Natasha is passionate about investing in high-quality schools that prepare diverse students for their 21st-century global future. She appreciates the business of education and the people who make a daily difference in the lives of young people. She also represents individual families, students and faculty/staff to assert their rights in schools and universities.
Natasha has been honored as a Fellow of the Maryland Bar Foundation in recognition for her demonstrated dedication to the welfare of her community, the administration of justice, and the traditions of the objectives of the Bar of Maryland. She current chairs the Editorial Advisory Board of the Maryland Bar Journal and serves on the Board of the Asian Pacific American Bar Association of Maryland as well as the Business Law Section Council and 125th Anniversary Thought Leadership Initiative of the Maryland State Bar Association.
Natasha gladly shares her expertise and growth-mindset through her publications and teaching of client workshops and continuing legal education credits for practicing lawyers.  She is the lead author of the Business Organizations Chapter of the Practice Manual for the Maryland Lawyer (Fifth Edition). In 2020, she published a Strategic Perspectives feature for Wolters Kluwer "Counseling the small business owner on re-opening for business."
Outside of her legal career, Natasha enjoys yoga, cooking, long walks with her family and dogs, and international travel.
Natasha's guiding principles are service, simplicity and satisfaction. Whether you hire her to explore new ventures, resolve a conflict, or optimize your operations, she will quickly build a relationship with you, listen carefully, and understand your needs as an organization, family or individual.
–
GINNY BONIFACINO is a co-founder of Nazareth Bonifacino Law LLC. She has over a decade of experience as a business attorney and outside counsel on both coasts — Maryland/DC and California, with a focus in transactional, intellectual property, and employment law. While Ginny's clients are from all industries, she often counsels businesses with creative assets they wish to protect and monetize. This enables her to utilize her strong intellectual property background and provide additional value as general counsel.
In the past, Ginny served in the legal departments of the Chicago History Museum and the National Endowment of the Arts in Washington D.C. on a variety of business, employment, and intellectual property topics. She also interned for Judge Glenn T. Harrell of the Maryland Court of Appeals and Judge Richard Cudahy of the U.S. Court of Appeals for the Seventh Circuit.
After attending law school because she wanted to help artists, she continues her pro bono work with the Maryland Volunteer Lawyers for the Arts and the Washington Area Lawyers for the Arts. She also supports women entrepreneurs as a volunteer attorney for the Maryland Women's Business Center.
Outside of her legal career, Ginny spends most of her time cooking, reviewing cookbooks, and running after her children.
Resources:
Connect with Natasha & Ginny:
Click here for a raw, unedited transcript of this episode
Natasha Nazareth  01:11
Natasha Hello, how are you? I should say hello, hello?
Catherine A. Wood  01:20
Why? Why hello, hello?
Natasha Nazareth  01:22
Because that's how you start half of your podcasts.
Catherine A. Wood  01:28
Oh boy, now I'm gonna have to go back and listen to them. I mean, it honestly, it's not intentional. But it's so funny you say that because everyone, like a lot of people I am in the business world with like, they all have their way in which they start their newsletters or sign off on emails. And I'm like, I don't have my like one way, like what I feel in the mood for changes.
Natasha Nazareth  01:55
You often say hello, hello.
Catherine A. Wood  01:58
That's funny. Well, Jenny, it's fun to connect with you. We've never had the opportunity really to connect. Yeah,
Ginny Bonifacino  02:05
well, you left us. I
Catherine A. Wood  02:11
I did leave you guys and I've been I've been. I've been looking around Boston to try to find we're hoping to stay in Boston, we don't really want to come back to DCs. So I've been looking through the DC or Boston providers groups to kind of find my place, but like feels very in the air right now. So we're working through kind of where we're next is for us.
Ginny Bonifacino  02:35
That makes sense. Yeah.
Catherine A. Wood  02:40
Well, I'm excited to chat with you guys. We haven't started the podcast. Well, we can just connect for a couple minutes. And then maybe like 1015, and we'll switch gears and my tech crew will help us edit everything else out that we don't want in the podcast.
Natasha Nazareth  02:54
I love your jacket. Oh,
Catherine A. Wood  02:57
it's doesn't feel timely for Valentine's Day.
Natasha Nazareth  03:02
I'll show you I've had this picture of my son's in my office for a long, long time. But it was an interview. You can see that very clearly. They are maybe 18 months and not quite four. riding the train the flexible flyer tricycle cue. Yeah. So once a year. It's seasonal.
Catherine A. Wood  03:31
I love it. Are you guys in? Are you in the offices today? Are you in your shared office in different rooms? Yes.
Ginny Bonifacino  03:37
Yeah. And I actually went down office so that there'd be less background noise because we can hear each other sometimes? Well, most times. Yeah.
Catherine A. Wood  03:49
Oh, I can appreciate that. Oh, this is perfect. Hold on. Let me let my dog out. I was hoping she will leave you so you know who's in charge? Natasha, I was so curious about your email. The last I think the last email you said you you said that. You were writing your talking points. And you got goosebumps and I was wondering what gave you goosebumps because I want to make sure whatever that is that that's what we talked about.
Natasha Nazareth  04:29
Oh goodness. Do I know what gave me goosebumps? It's okay, if you don't. I don't think I remember to be honest cat. No worries. It took me a while to get them going. And then I realized I was overthinking it.
Catherine A. Wood  04:44
Totally. Well here.
Natasha Nazareth  04:46
This is officially our first podcast.
Catherine A. Wood  04:49
That's crazy.
Natasha Nazareth  04:52
Yeah. And I just realized I should turn off. Dialpad
Ginny Bonifacino  04:59
Oh, Yeah, are they're gonna follow through, you
Natasha Nazareth  05:04
know how to actually shut down power off.
Ginny Bonifacino  05:08
I think if we both say Do Not Disturb, it'll go straight to voicemail.
Natasha Nazareth  05:13
Okay. So how do I put it on Do Not Disturb because clearly I've never done that,
Ginny Bonifacino  05:19
um, go to Dialpad. Up at the corner where it has your name and it says available. You can do Do Not
Natasha Nazareth  05:27
Disturb. Oh, I see that. Excellent.
Ginny Bonifacino  05:36
And it should do. Yeah, that's what I did when I was on maternity leave. That's just all they put on. Me. Oh, great. Cool. We've been getting a lot of phone calls today. So that's good.
Catherine A. Wood  05:57
Is Dialpad like a Google Voice? system of sorts. Interesting. Okay.
Natasha Nazareth  06:04
So it, it's Voice over IP, we have a main number and two individual numbers where, you know, be set up as as departments if you wanted it to be. And it rings through to our cell phones. It brings on our computers, obviously. So we don't even have physical office phones. It's infinitely expandable. It's inexpensive. It keeps a limited counter trend not transcript Exactly. But kind of like action points. If you have that setting turned on. Cool. Yeah.
Catherine A. Wood  06:42
It's nice having technology that support boundaries, right? Like support the disconnection between work and life.
Natasha Nazareth  06:52
Right. So it's a separate app on our phones.
Ginny Bonifacino  06:56
And you can set hours, you can
Natasha Nazareth  06:58
set hours on raising it even though it rings through to my personal phone. My it's completely separate from my iPhone, phone phone like that, right. So the calls don't get mixed together. Or if I ever needed to produce a list of calls from Dialpad, I can produce just that. Cool.
Catherine A. Wood  07:21
That sounds interesting. I'll have to check it out. Because I have Google Voice and I just get spam after spam after spam. And it's so exhausting.
Natasha Nazareth  07:31
We haven't gotten really happened. And yeah, really. I mean, the only people who spam us are the people who want to do legal marketing for us. And they just joined LinkedIn. And I don't think there's really any way around that.
Ginny Bonifacino  07:47
Yeah. Interesting.
Natasha Nazareth  07:52
LinkedIn is really the source of our spam.
Catherine A. Wood  07:54
Yeah, I get that. I get that also. Well, so let's see. So just a couple thoughts. So we'll just have a conversation. It's totally casual, organic, we'll just follow our curiosity. I have your talking points, I'll make sure we talk about these things. Anything that you want, edited out is not a problem, you can just let me know afterwards. And we can have my producer edit out whatever you don't want. If there's anything, I haven't actually had that happen yet, except for when my dog was in the room barking. And then my Podcast Producer will be in touch after the episode. At this point, we're probably two months out. So it may air end of March, maybe early April, and she'll be in contact with you all about the release date. And we'll share any some visuals for social if you want to reshare and no pressure if you don't. And that's that. Sounds good. Any questions?
Natasha Nazareth  09:12
Other than sending you that list of five bullets, we haven't done any planning. That's fine. Okay, so we didn't even talk about like, you know, who wants to answer which kind of question we just figured you. I've been listening to your podcast, and I love how they feel so relaxed and easy.
Catherine A. Wood  09:30
Yeah. That's, I mean, that's kind of how it's going to be so whoever feels inspired to answer. Great and if you both interrupt each other, then you clearly both want to say something. That sounds great, too. But I did have a question because I don't know what the acronym H I S means.
Natasha Nazareth  09:51
Oh, isn't that oh, it should be HSI for highly sensitive individuals. You call them HSP highly sensitive people. Oh, oh highly. Okay. Cool. I told you, Jenny, I told Jenny it was a new term to me. And I clearly got it wrong.
Ginny Bonifacino  10:09
I didn't know what it was either. I had not heard of it.
Catherine A. Wood  10:13
There's a book. It's an it's written. It's kind of a whole field of psychotherapy. Developed by Elaine Aaron, she wrote the book called The highly sensitive person. And she has since written books for the highly sensitive child. Which I think it's fast. It's I think it's all fascinating.
Ginny Bonifacino  10:37
I might have one or two of those.
Catherine A. Wood  10:39
Yeah, I mean, one in four, one in four of us are our HSPs. Crazy, right? Like, think of all the times someone says, or you've heard someone say, like, don't be so sensitive, right? And then if it's a bad thing, when truly could just be one of your personality traits? Yeah, yeah, it definitely has a very negative connotation. And that sounds Yeah. Okay, well, I'll just say that I'm feeling a little nervous because this is my first time to have you. And sometimes I I noticed when I like, say it, and I can clear it. So
Natasha Nazareth  11:22
we're used to most people are nervous talking to us, because we're attorney so they think we know something they don't.
Catherine A. Wood  11:28
That's funny. I wouldn't say the same. I think a lot of people are nervous talking to me, too, because they think I understand them or understand more about them than they do. Which is kind of like sex sometimes, you know? Okay, um, okay. Well, then, let's jump in. All right. Natasha, and Ginny, I'm so happy to have you on the podcast today. We were just talking about how the two of you are my first kind of a couple are our partners on the podcast. So excited to have you both here.
Natasha Nazareth  12:12
Thanks for glad to be here.
Catherine A. Wood  12:14
I was thinking I would love to just jump in and hear a little bit about how the two of you both accomplished attorneys kind of came together to open up a practice in partnership. Do you want to kick us off Jenny?
Ginny Bonifacino  12:35
I was just thinking that Natasha does a really good job. But I'll start. It all started in COVID. As many stories these days probably do start is Natasha and I were working at the same law firm together. And we started working together all the time, on different COVID related things as everything was coming out. We would text each other and call each other and help formulate what the strategy is for our clients. And it really just started collaborating all the time on everything. It wasn't hers. It wasn't mine, it was ours. And so then her at the time, 10 year old, floated the idea of Nazareth bond Pacino law at some point, and it kind of percolated for a lot while no till we started to do it.
Catherine A. Wood  13:32
Oh, I'm sorry to interrupt. Keep going.
Ginny Bonifacino  13:37
Oh, yeah. So we, we, you know, we work together, we work well together. And we decided we had similar values and a similar idea of how we wanted to practice law, and just decided to do it. And I don't know if you'd add anything to Tasha.
Natasha Nazareth  13:56
I would say that there was a there was a long germination phase. And then one day, it just became just crystal clear to me that we were meant to be collaborators. And that there was really no other way forward. Other than to just jump in and collaborate the way we wanted to and build a practice that was based in joy.
Catherine A. Wood  14:24
I love we'll come back to that building a practice based enjoy, but I we cannot overstep the fact that you guys started or you women started a firm together because of your 10 year old child. Natasha. What was it like to have your whole career inspired by your 10 year old? Your whole career pivot?
Ginny Bonifacino  14:48
Um, so the other part of this is the day that Natasha calls and says, Hey, you know, like, we're talking about this. And I've kind of she's like, you want to do this And I paused and I was like, Well, you know, I'm pregnant with my third child. And Natasha has three. And it just for us is why we do this. I would say, as far as our kids, and we have all of them together and how proud they are that their moms are doing this is very important. So, yes, no.
Catherine A. Wood  15:28
I mean, I love that I believe I believe that so wholeheartedly that when we pursue our dreams that we model, that for our children that we model permission to be fueled by your passions, and your curiosities, and your interests. And having that model is some of life's best teachers.
Natasha Nazareth  15:48
Back to your point about, you know, having a 10 year old, be so clairvoyant, in the midst of COVID, she saw me working day in and day out in the basement while she was, you know, doing remote schooling upstairs. And she saw that collaboration is really a mindset and a skill set, that it's not dependent on time or place, but it's really dependent on who you choose to collaborate with. And from that perspective, that doesn't surprise me at all, that that clarity came from a very sensitive child who is driven and interested in making a difference in the world just like we are, and that because that's what she saw us doing.
Catherine A. Wood  16:34
You know, I think it takes a certain type of parent to be open to that input from their child. I think that says as much about you as it does about her.
Natasha Nazareth  16:46
I often tell people, I was Montessori kid. And the only issue I have with Montessori education is it teaches children to create their own process. So they will never look back without creating their own process of how they're going to move forward.
Catherine A. Wood  17:07
That's beautiful, like I hear to be their own fingers. I love that. Okay, so let's get back to this idea of building a business based in joy. What does that mean to you too.
Natasha Nazareth  17:26
So I think you can break that down in a couple of ways. And to talk business, really. When you look at all of the research about healthy, profitable businesses, businesses that invest in their employees and in their workplace culture, are the high producers. And it seems like a no brainer to us that in a law firm environment, where we're always working with conflict, either preventing it or managing it or resolving it, that the most important investment is in your people and, and in your lawyers and staff. When they are joyful, and creative, then you get your best results for clients. So, for us putting, putting the employees first, including ourselves, is our starting point. The second place about being client centered, is doing everything we can to help clients have a successful experience and frankly, in a connected experience, from their first connection with us. So we throw a lot of traditional advice out the window, we answer our own phones. We talk directly with people, we prequalify them as as clients ourselves rather than filtering them through a receptionist. And then we use technology not as a cost saver, but a way to create less friction with Client Onboarding. And having clients feel like we are attentive, responsive, and, and their onboarding and exchange of documents and things like that is as easy as it can possibly be.
Catherine A. Wood  19:32
I love that reminder that when you're taking care of yourselves first and managing you know, pre qualifying your own clients that you're you're so much more set up to be able to handle conflict better. And, and I think that that's so powerful, right, like the reminder that oftentimes when we aren't managing conflict well it's because we ourselves are not well or present or perhaps grounded in our own self care or well being. And it, it brings me up, it brings up an interesting point because I work with a lot of empathic entrepreneurs who, many of whom have an aversion to conflict. So I'm curious to the two of you welcome conflict, like what are your relationships to conflict? Jenny, what's your relationship?
Ginny Bonifacino  20:27
My relationship? Personally, I don't like it. I, it's interesting being an attorney, because it puts me in such a different role, that I have no problem advocating for my client and helping my client through an issue. I just, you know, my husband will make phone calls because I don't want to have conflict with like, the contractor that's working on our house. So yeah.
Catherine A. Wood  20:59
I can hear that the like the distinction between advocating for your clients versus for yourselves. And honestly, I think that's one of the reasons that I like the two of you so much, you know, I follow you both on LinkedIn and for our audience. Ginny, and Natasha and I originally connected through a networking, professional and established professional networking group based, or chapters, we're based in DC and, and something I always appreciate about your LinkedIn posts is they're always value driven. And mission oriented. Many of the things that you say I could see myself writing, they don't feel like they talk about law as much as they often talk about culture and brand building a value aligned brand. I don't know. Is that intentional? Absolutely,
Ginny Bonifacino  21:50
yeah, definitely.
Natasha Nazareth  21:53
So um, you know, there's this somewhat trite saying that this is just relationships with money. And, in that same vein, to go back to your question of relationship to conflict, people are in conflict are usually there because they have have a relationship with each other. And they might be in different stages of relationship or needing to let go or needing to figure something out so that they could move forward in a win win way. And so what I try to do is, in business for clients, whether it's, you know, contracts, or business design or employment, I try really hard to look at how is this relationship going to work? What are the interests behind it? And how do we move through healthy conversations, and reach healthy agreements that can be implemented? It doesn't always work. Okay. And one of the other. One of the other pieces for us is that we aren't litigators. We're primarily transactional attorneys. And if if folks are really at a place where litigation is the only avenue, then we're going to turn them over to somebody whose business model is solely to litigate.
Catherine A. Wood  23:16
Yeah, I mean, thank you for that distinction between in the type of law that you practice, I totally hear that. And then the piece that you said about, like, relationship, it makes me think of a beautiful quote by Brene Brown, she says, it's hard to hate people close up lean in. I don't know if you've heard that quote. And I think I say that to clients so often that you know, like, you're likely just being in a superficial relationship if you can't have a honest conversation. Okay, let's I want to, there's so many things I want to talk to you about, but maybe for selfish reasons. You know, I used to have a second business, as well with a very close friend, and we eventually closed the business and I also lost that friendship. And I, you know, I still, it was a really hard loss. So I think this idea of partnership, and being friends and colleagues and partners is is an art form. And I wonder what the two of you have learned how to how to build an effective partnership, given all the hats and the relationships that you've shared together.
Ginny Bonifacino  24:38
Something that we were talking about earlier today was this is in our business as well. It's just giving like you know, you give you give you give you given eventually it comes back to you as we've been building our business, but I think that that holds true as well for our relationship is As we were starting, we just we did things, we have a master list of everything that had to be done from setting up the internet to negotiating the lease. And it was, there's a lot of things you have to do. But there was never any bickering about it, we just did it. You know, we took her, you know, we, we just work together in that sense. And I think that that has kind of been our mantra and how we, how we operate together.
Natasha Nazareth  25:38
We have build trust, over several years, and I think becoming business partners was a reflection of the trust we already had and each other's competence. And how we served clients, going into business together as a whole nother level of, of trust. And, to me, I feel just as responsible for Jenny's family as I do for my own. And that's a different way of thinking, as a business owner than being an employee of a larger entity. I also think that, you know, trust us, it's a bank account. It's the small things you do all day long, you know, when you, when you see dirty dishes in the sink, at the office, you simply take care of them, and you don't keep score. And I think it's important, we do have areas of the business in which one of us typically takes the lead. And we have a good process for we have a weekly partners meeting, that is our favorite time of the week, because it's it's a joyful meeting. And we talk about strategy and approaches, and then we trust that the other person will, will follow through and implement. So there's not a lot of second guessing. But that's because there's always space for somebody to say, you know, I was thinking about this, or I thought about it another time. And I want to revisit it. And those are all different aspects of trusting the relationship.
Catherine A. Wood  27:23
Totally. Yeah, no, I appreciate I appreciate that reminder. The idea of, I don't know, in my work with clients, oftentimes, we talk about primary relationships. And there's a practice I often offer my married couples, which is the invitation to have a weekly State of the Union, where you talk about the State of the Union, how we are doing, not necessarily an opportunity to vicar or complain, but really to talk about how we're doing as a unit and what we need. And I think it's so helpful to have that space and time to talk about to talk about versus being in. So, you, you talk about Natasha, you talk about this idea of why less is more. And I'd love for you to expand on this idea of what this means you say less friction, less overhead and layers create space for more creativity and joy. What is what is what is that for you?
Natasha Nazareth  28:33
You know, in a law practice, and this is probably true for many other types of professions of service oriented professions. It's the direct client contact, which is where the real richness and relationship and outcome is driven. Sure, you need all the time at your desk to research and draft and think. But I think in our businesses, the more deeply we connect with our clients and with opposing counsel or other people, the easier it is to focus on on the real issues and not dance around the logistics. So I think I mentioned doing eight signatures and online payments and things like that ease friction and onboarding clients. But they're things like using online calendaring like Calendly, or Microsoft bookings, things like that. We use the mess tools to have less process and more focused time together with people. So it's not so much that we have some kind of special sauce and special tools that we use. I think we think about them differently. Then, sometimes they're marketed. They're, they're marketed as time savers or money savers. But to me, there are actually ways to help grow relationships.
Catherine A. Wood  30:09
I really appreciate that reminder that some of the timesavers that they're not necessarily for the two of you, it sounds like they're not necessarily geared towards being more productive or making more money. But it sounds like they are really about taking away the distractions in the way of relationship. So that you actually get to spend more time being in relationship with your clients.
Ginny Bonifacino  30:37
Yes. And it also helps, but it also expands is okay relationship more time for our clients and more time for our families.
Natasha Nazareth  30:55
So the other piece of that is, I think when we spend more time with potential clients, we've got enough of a funnel, that we are highly selective. We joke around the office a clients only. But having fewer clients, so why is less more, having fewer clients with whom we have healthier relationships. We can provide outstanding services to many clients. But when clients hire us because they deeply trust us, because they feel that we're responsive, when they show that they trust us by paying their bills, quickly, and easily. Those are all ways that we can focus on fewer clients. Because we have solid relationships in place.
Catherine A. Wood  32:05
It's so refreshing talking to the two of you. Because you know, in my work, I've been talking about this idea of internalized capitalism a lot lately, like the ways in which hustle mentality and grind culture are a part of our DNA. And the two of you work in an industry that is very oriented towards grind culture, and more is better. So I guess I'm curious how, how, what your journey has been having such differing values in such a way, in an industry that has a very distinct reputation. And I know, you know, there's always we find our people. But I'm wondering, as that been a challenging road for the two of you.
Natasha Nazareth  33:01
I was in house counsel for most of my career. And when I did start taking on private practice clients, the way I thought about pricing was, first of all, what am I worth, and really valuing my time. But also knowing that even within setting market rates, that I would prefer to have a slightly lower rate that didn't put time pressure on me, because so much of my work is really deep thinking and careful writing. And so if my rate is too high, then I create an unnecessary stress on myself. Because at the end of the day, I know what the work is worth, excuse me what the work is worth. And if I set a more reasonable rate, I work at a sustainable pace to create high quality output, that my client is also happier because they can see the value in their bill.
Catherine A. Wood  34:16
That's interesting. That's that's a unique perspective. And you know, it's a little bit different than my own experience. Because what I've noticed over the years is, as I've increased my rates, I have attracted clients who are more action oriented, more capable, and to some degree, the degree to which they invest in themselves the degree to which they are committed to their dreams. So it's almost like I get more more fulfillment working with clients who are committed to their dreams, but it sounds like your take is a little a little different. that you. Maybe I'm hearing that hearing this incorrectly, but do you do you experience that you can be you can take more space and more time if you charge a little
Natasha Nazareth  35:15
less. That's part of it. But also pre qualifying clients that that the rate that we offer them is within a comfort zone or reasonable stretch zone. If a client can't really afford the services, we either have or have to find a way to bring down the cost for them or point them in the direction of a resource that fits their resources. Yeah, and it's important to say it's important to say no.
Catherine A. Wood  35:59
Totally Ginny, it sounded like you're gonna add something. I was new Mom Brain, I hope to be there soon.
Natasha Nazareth  36:19
So we see you on the Super Bowl soon.
Ginny Bonifacino  36:23
You have the red. The one thing though, as an ASHA, was speaking that really sprung to mind was we deal with some really complicated situations. And I think holding ourselves out and having our mantra of a client's only has really given us MIDI, legal problems. They're very sophisticated issues that require not only having the legal, you know, facts and ability and knowing what the law is, but a level of strategy that has really pushed both of us and it's just fascinating. It's fun. I like at the end of the day, I enjoy it. There's that joyfulness going out there again?
Natasha Nazareth  37:21
Well, very happy nerds. Yeah,
Catherine A. Wood  37:25
tell me more. I'm a nerd by background to like, but I I'd actually love for you both to share your areas of specialty. Because my understanding is that you both bring distinct skill sets to the practice that you have different areas of focus. So I mean, I know my audience is gonna feel values aligned with you already. So share, share what your areas of focus are.
Ginny Bonifacino  37:49
Well, our overlap is that we're outside general counsel for clients. So we are typically the first call of anything goes wrong. And we hope our hopefully we'll prevent things too, but employment contracts and all that kind of normal stuff. And then I focus a lot on helping creative businesses, entrepreneurs, with trademark protection, copyright, and other related licensing issues. Always thought artsy creative people.
Catherine A. Wood  38:22
I saw that on your site, and it made me curious why why creative entrepreneurs? Is that a passion?
Ginny Bonifacino  38:29
I just love art. Yeah, you know, it's something that I absolutely love and just wanted to incorporate that into my practice.
Catherine A. Wood  38:40
What modalities are your favorite
Ginny Bonifacino  38:44
um, most of the time most of my clients end up being like painters and photographers definitely has a visual art aspect to it. Over the years it's you know, I we represent a dance studio, several marketing companies. So that there's, there's a creative element to things, they're not necessarily painting all the time or anything like that.
Catherine A. Wood  39:10
I mean, I love that your niche industry is it sounds like guided by what you personally have a deep appreciation for. Yeah.
Ginny Bonifacino  39:23
When I decided to go to law school, that was really one of the drivers is if I was going to do this thing, which I thought I would like, I knew like I wanted to pair it with something that I truly knew I loved. And I have always been art history, going to art museums, all of that. So
Catherine A. Wood  39:46
yeah. What's your favorite art museum in DC?
Ginny Bonifacino  39:50
Phillips Collection. Ah,
Catherine A. Wood  39:51
I love the Phillips Collection. That was my very first date with my husband. Oh, and we we played hooky from work.
Ginny Bonifacino  40:04
It was worth it. Yeah, that's worth it.
Catherine A. Wood  40:09
Natasha, what's your area of focus?
Natasha Nazareth  40:12
So my area of focus is business and education. By background, I've been either in house or outside general counsel to a wide variety of independent schools and colleges for 25 years now. And I backed into the business work from being general counsel to one of the system campuses of the University of North Carolina. So I was a small campus and a large system, and really learned how to do lots and lots of transactional work, and how to run strategy for creating new programs and expansion, enrollment growth. And put all the pieces together of programs, people funding and legislation. And when I moved into private practice, I expanded that kind of strategic practice of law. I work with a lot of startups, professional practices, the common denominator is that they're mission focused. And that they have good values, they're clear about, about where they want to be going. And I do a fair amount of intellectual property work, like Jenny does, but from a different perspective. So I tend to work with companies that are commercializing technology that is being spun out of universities.
Catherine A. Wood  41:53
I don't know what that means, technology that are being spun out from you. So again, thinking
Natasha Nazareth  42:04
so think about how many, how much research is done in the university setting. And so a professor will have created technology, patented it through the university. And then in order to bring it to market, there's usually a private company set up, Professor is often one of the owners, and that the patent is owned by the university usually. And so there's a licensing agreement so that the private company can commercialize the technology and make it a viable product.
Catherine A. Wood  42:45
That's fascinating. Yeah, so in those scenarios, do you typically support the professor, the university, the entity or all the above?
Natasha Nazareth  42:59
So I usually represent the professor in the company. But there's an art to working with academic culture. And, and there's an art of making business deals. So that everybody succeeds, and it usually takes generating some trust, you never know which products are going to make it and which ones don't. But if you are overreaching, from the very moment that the business deals are starting, you can spend a lot of time in fighting instead of shifting the creative energy towards successful commercialization. And then as if you look at an ongoing relationship, say, say a product is on its way, a lot of times professors in their graduate students will continue to work on related technology. Or you will have part of their time spent in their scope of work at the University and part of their time spent in the new company. And so you have to set up good boundaries, right? When can you do where and what work product and intellectual property belongs to whom?
Catherine A. Wood  44:23
I mean, that's so lovely to think about. And I love knowing that about you because I think, you know, we came to Boston because my husband was given a very prestigious opportunity here and in academia and you know, he talks often about kind of these professors and just how under valued, underpaid, overworked they are and how brilliant they are. So what I love knowing that there are attorneys like you, who provide that care and advocacy for Are our worlds educators? Well, I mean, I think that brings me to this idea of, of advocacy. Because I mean, one thing I get about the two of you is just how much empathy and kindness really seems like it infuses its way into your work and how you advocate for your clients. How does that how does that play out in your day to day?
Ginny Bonifacino  45:42
So, as we've created this practice, we can only be ourselves is really what we keep coming back to, like, you know, and I, when I am advocating on behalf of a client, I am not going to be the loud person in the room screaming or anything like that. And it's much more effective if you don't do that. And just being true to who I am, is much gives me more strength to achieve what needs to be done for my client.
Catherine A. Wood  46:18
I imagined it makes her clients much more trusting of you as well.
Natasha Nazareth  46:26
And you can be kind and empathetic and build a relationship with opposing counsel. And still have an I would say have even better, difficult conversations. It doesn't being empathetic and kind doesn't mean that you're soft. Yeah,
Ginny Bonifacino  46:50
exactly.
Catherine A. Wood  46:57
I think that's such a good point. You know, I think that that, I mean, that's a big part of why I started this podcast, because I am very soft spoken. And I am incredibly empathetic and sensitive. And I know that there are other people out there like me, who don't have access to their voice. And I think that when we share ours that we model, that there is a space that there is room for other high end empathic, sensitive souls at the table and in the business world, and in all areas of the business world. And they may not be as loud, they may not be as brazen. But they can still be equally as successful and impactful.
Natasha Nazareth  47:45
I think there's having clarity about your clients goals, being extraordinarily well prepared. And being tenacious. For me, it's easier to be tenacious and keep pushing until I get to an outcome that will say we'll call it satisfactory outcome. I can be tenacious because I know I have clarity on the goals.
Catherine A. Wood  48:21
I mean, I love that you also said well prepared because that is it's a tetanus, a textbook quality from the highly sensitive, highly sensitive people this idea that typically we're the ones in the room who are extremely over prepared. And we don't necessarily feel the need to like, come out. I guess like, I guess what I mean is when we choose to communicate, we are very well articulated in our points and resource and educated and say whatever what it there is for us to say and it's not it's not BS, you know, it's well researched and well articulated and well thought out. And isn't that so refreshing? Well, as we as we wrap up here, you the two of you are a certified B Corp, which I don't even know what that is. So I would love for you to educate me and my audience about what that what that means to become a certified B Corp.
Ginny Bonifacino  49:34
So we're in the process of being certified by B Lab. Have you ever seen the little logos on different things that have says it says B Corp. It has like a little b. Once you like realize that you're gonna start seeing it everywhere. So essentially what it means is that we are a for profit company, but we are focused and working towards some other mission impact, the greater good. And from the legal standpoint, I can't sue Natasha because we do that, and she can't sue me because of it. But really, it's just, it's how we operate. It's, it's.
Natasha Nazareth  50:23
So maybe, at the risk of sounding too pedantic. under American law, if you're a for profit company, then leadership's fiduciary responsibilities to shareholders or investors is financial profitability. And what benefit corporations, or sometimes they're called a public impact companies, what they can do is they can have a double bottom line of both financial profitability, and social or environmental good. So it's really a mechanism of thinking about capitalism, right? Corporations, and limited liability companies are products of capitalism. And so is there a way that business is a force for good, rather than simply a force for profit?
Catherine A. Wood  51:30
I love knowing about that. How cool? What is that process like to become a certified B Corp.
Ginny Bonifacino  51:39
So we under Maryland law shortly, hopefully, today, actually, we will be a Maryland benefit, LLC. And that's as easy as just following the paperwork. But then we're going through the certification process with B Lab, and they asked for things like, what's your environmental impact? We have to sit there and estimate how much trash we produce and how to reduce it? You know, what employment are? Where do we find our suppliers? Are they local? Are they diverse? Essentially, where do we put our money? And how do we use that to improve the world?
Natasha Nazareth  52:24
So for some kinds of companies, so V lab has this very rigorous certification process, and it's standards based across a bunch of different areas of, of a business. For some companies, it's really easy, because say, for example, if we only serve low income clients, then it would be easy to show where our societal impact is. But for us, it's a little trickier because we serve lots of different clients. But there's a common denominator of serving people who are either historically underrepresented in business, which means that they're probably also have less or more difficult access to capital, to markets. And to technical know how, because they're not as likely to have family members who have been involved in, you know, majority dominated markets. And, and then, and then we have another group of clients that are highly mission focused. So they might be a major developer of, of residential housing, that promote green building practices. Or they might be a company that is we talked about commercializing technology, they're creating battery technology that will have a substantial impact on climate change if they're successful. So we're serving clients who are bringing to the world.
Catherine A. Wood  54:15
Yeah. I mean, I love hearing that I can see why you're both you. I mean, no one else is watching this video, right, but you're clearly both so lit up, about your work and who you serve.
Natasha Nazareth  54:30
There are not many benefit law firms in the world. So we're looking forward to being one of one of the first in our area.
Catherine A. Wood  54:43
Well, if any of my listeners want to know whether they would make your a team who do they need to be? What are the qualities of your 18 clients? Any that we haven't already heard on the podcast? I mean, I'm sure though.
Natasha Nazareth  55:10
So, um, so something that we, you know, somebody who is interested in creating a well run business, someone who's interested in treating their employees from the premise that compliance is a floor. And that treating people well, is valuable in every way. We're always interested in some of the nonprofits that are, you know, very mission focused, either internationally or domestically. And I think if there's one thing that we you know, you can't really put on a website, but I think people in this podcast would appreciate it. We want clients who, who value legal services as a value add to what they're trying to accomplish. And they want to partner with us, and they respect laws of force for good. You know, we're not interested in being hired guns, for people who want to use the law for ulterior motives. It's just not us.
Catherine A. Wood  56:28
I don't pick out the names for these podcast episodes. But I hope my Podcast Producer takes laws of force for good and runs with that, because that feels so indicative of who the two of you are, and what we talked about on our episode today. I end every episode by asking my guests the same question, which is what has supported you in becoming prosperous? Empaths? And to be super clear, what I mean by the term empath is, what exactly what you've been talking about this idea of caring so deeply about others and the world around us, while also getting to thrive in every definition of the word emotionally, physically, mentally, financially, spiritually, joyfully. So what's made the difference for the two of you and I would love to hear from both of you.
Ginny Bonifacino  57:24
I would say Natasha, because I think we are both excellent attorneys. We both have excellent business acumen and all that stuff, when we could run a law firm successfully by ourselves. But together, we are so much stronger. And having a partner that I can rely on and trust. She keeps me on track and make sure I set my boundaries. It's been great, you know, we just reaffirming that this is we're doing it right. This is what we should be doing right now. So good.
Natasha Nazareth  58:10
That's hard to follow.
Catherine A. Wood  58:11
Yeah. No, did you can't did Oh, her.
Natasha Nazareth  58:20
So I know a lot of people felt like the pandemic was a turning point for them in different ways. I think for me, it was a return to center that I can and should shine my light in the world. And that this law firm was the right way to do it. You know, I love I love the quote, that it's always the right time to do the right thing. And this is the practice that gives me the opportunity to do that all day, every day and all of the small choices we make.
Catherine A. Wood  59:10
In my work, we say that you have to break down in order to break through. And I hear that the pandemic provided that opening for the both both of you in this beautiful new practice and partnership, and being a force for good. Thank you so much for coming on the podcast today. It was such a delight to be with you I feel more grounded as if I had just had a coaching call with my own coach rather than a call with two attorneys. So that's an amazing experience. Really a pleasure.
Ginny Bonifacino  59:47
Thank you ravenous.
Natasha Nazareth  59:49
Thank you so much cat is a pleasure to be here.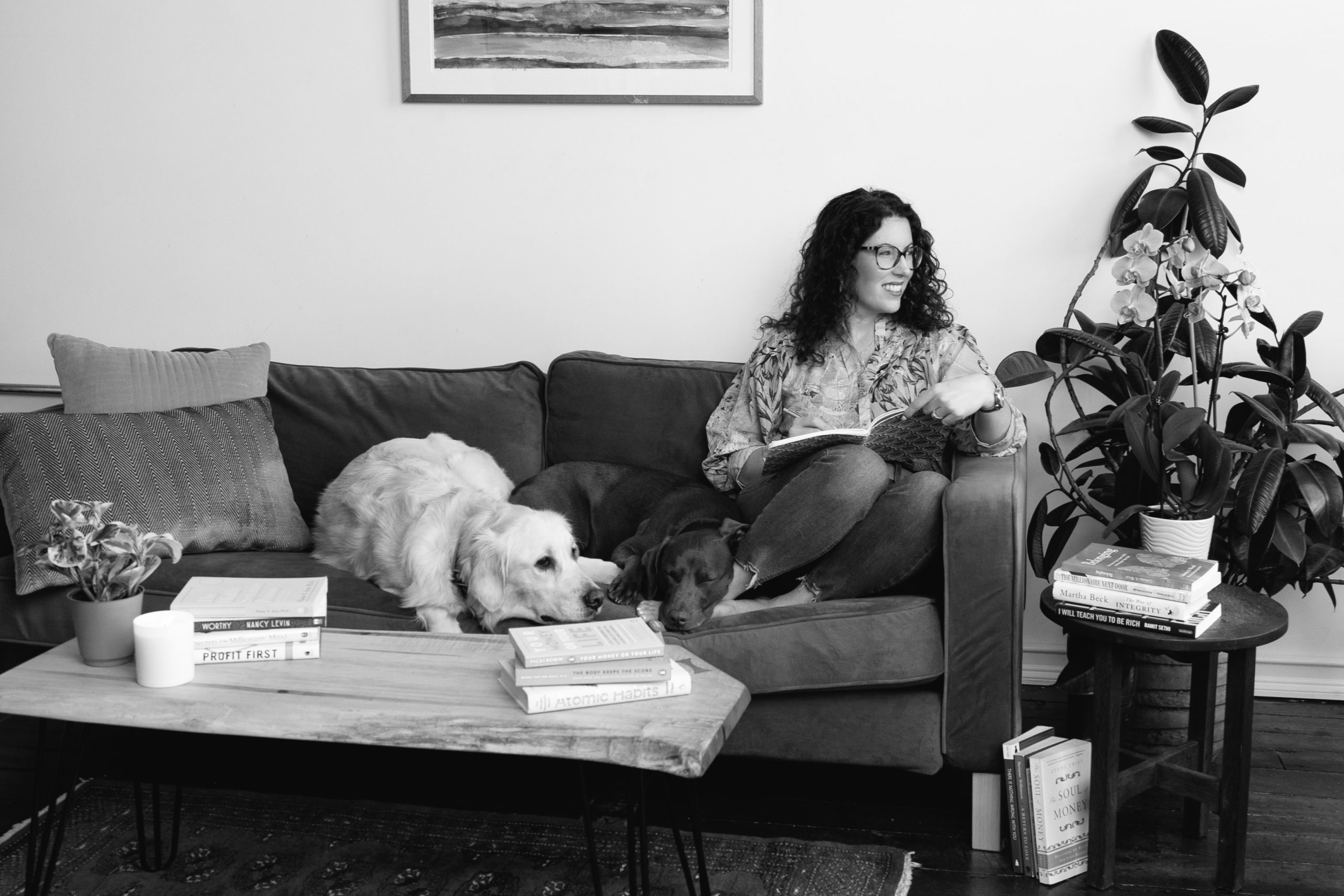 Get the Essential Reading List for Ambitious Empaths
Snag a copy of our favorite confidence-building + intuition-honing business, money mindset, and leadership books to help you embrace a holistic approach to your success. Grab a cup of tea and let's reverse engineer your life, removing the hustle and grind and replacing it with more joy and leisure.
Marketing Like We're Human with Sarah Santacroce
If you're an ambitious empath, you probably feel the misalignment of hustle culture marketing almost daily. I know this was a huge problem for me early on in my business before I really gave myself permission to do things my way. With that being said, I'm so excited to have Sarah Santacrose on the show today. Sarah is the author of Marketing Like We're Human, and it's her mission to show how we, as prosperous empaths, can revolutionize the marketing industry.
Visit this episode's show notes page here.
–
The Prosperous Empath® Podcast is produced by Heart Centered Podcasting.