Aug 02, 2019 | Most Popular, Your Business
What your mindset about change says about you [Plus a favorite practice of mine you're gonna 💗]
Many people are surprised to hear that as a coach I've been working with my own coach on a weekly basis for the past 6 years. In fact, I've worked with 3 coaches during that time frame.
You can imagine I've received some of the same reflections over the years from each of them. They've all had different styles and distinct voices.
Yet, I've heard both their and my own reflections and insights for myself only when I was ready to hear them.
Fundamentally, that's why I believe that coaching is more effective than a consulting approach to personal development. We're much more likely to implement things when we've come to realize on our own how we're getting in our own way and sabotaging our own goals.
When we capitalize on our own strengths and develop our businesses, write our books, discover our own voice (the authentic version of ourselves), that's when we'll thrive.
But, it's all a process and a journey.
With my first coach, I discovered what it was like to live a life where I love myself unconditionally for who I was (including all the quirks too). I learned to love myself independent of accomplishing goals or other moving targets.
(I'm excited to share more about this in my book that will be published next spring. The working title is I Just Want to Date Myself, and it explores the intersection of self-love, the importance of celebrating ourselves, and finding meaning outside of our work through spending quality time with ourselves and others. If this book resonates for you, I'd love to hear from you as I'm still looking for people to interview who have a great story of celebrating themselves or have developed a personal passion or hobby over the years.)With my second coach, I learned that I was capable of putting down my eternal need to be right. This may sound pretty innocuous, but you guys, I was right all the time, verbally or in my own head, it didn't matter.
Foundationally, it was a linchpin for me to prove my own inherent worthiness.
Right = Good enough = Worthy of love (my own or someone else's).
As I'm sure you can imagine, this was also the single biggest obstacle to my getting that deepest need actually met.
With my current coach, we've been coaching a lot around fine-tuning my business, business processes, and systems. We've been exploring procrastination, time management, and tools to leverage peak performance.
Beauties, this stuff is so crazy fun!
While many things have come naturally to me in my business, some of the things that haven't come as easy are all of the performance improvements. This has been my focus with my coach over the past year and a half.
Don't get me wrong, they haven't been easy to implement, but the techniques and productivity hacks are simple.
Are there changes you want to make in your life and business too?
One of the biggest mindset shifts for me to affect change and effectiveness in my business has been this lesson…
Most change is simple. Change is complicated by our free will or lack thereof.
Once I was able to transform some of my limiting beliefs and fears, change has been much simpler to implement.
My guess is this is true for you too.
Most conversations I have with clients about change revolve around a willingness-based mindset versus an ability-based one.
That's both good and bad news for most.
It's bad news because most people want a simpler answer. Tell me what to do. Give me the magic sauce. What's the secret?
The good news because you already ARE the secret you've been looking for!
Perhaps, unlike me when I started, you've already done a lot of the deeper personal development work to heal your relationship with yourself, and you're in a place to begin implementing change right now.
If that's you, you're gonna love the newsletters over the next month! I will be providing you with many of the tools and habits that have greatly leveraged my project management skills and productivity over the past year.
On the other hand, perhaps you find yourself in a place of curiosity and seeking as to how can you begin living the life today that you hope to someday…
If this is you, I want to leave you with a practice. It's a simple practice, but I can tell you that the impact of it has been life-changing for me.
In fact, it's been the entire inspiration for my book.
Here's your practice
I want you to take yourself out on a date this week.
I don't care where you go, how much money you (do or don't) spend.
As long as it feels aligned and exquisite to you.
I want you to practice treating yourself the way you would like to be treated by another.
And I want you to rediscover (or delight in) spending time with yourself –
→ What do you enjoy about spending time with yourself?
→ What do you appreciate about your own sense of humor?
→ When you give your mind permission to decide for itself, what's it like to meet your own needs?
I want you to star this email. Go ahead and do it right now, so you don't forget.
Alright, all set?
After your date, I want you to come back to this email and simply hit reply and tell me what it was like. What did you discover about yourself? How did you spend your date? What did you do?
This is accountability for you, I know how it goes. We get busy, we have good intentions, but we don't make it happen.
So are you ready for an extra accountability structure?
Open your calendar right now, and block of the day/time in your phone right now when you're going to take yourself out on a date.
If anyone tries to book you during that time frame, no worries, just tell them you're busy and offer them a different time that you're available.
I get so much joy out of taking myself out on dates!
My favorite is going to the Botanical Gardens in Washington, DC and delighting in the orchid room. I have a couple of orchids at home, and I always appreciate these delicate flowers. If the weather's nice, I love finding a reading nook outside and spending an afternoon reading in the sun, shade or both.
I cannot wait to hear about your date.
I promise you'll receive a personal response back from me!
To dating you,

PS Another productivity hack that I've developed over the years that has contributed to my overall performance is the practice of taking dedicated time off. To that end, I'll be away and unplugged next week in Canada. No wifi, no email and no social media for 7 days. I know, doesn't that sound blissful?! While I won't be in your inboxes next Friday, I'll look forward to returning in 2 weeks and hopefully to your emails in my inbox about dating yourself!
PPS Lastly, don't forget that if you've been considering joining us for a 2020 PACK Retreat, registration closes in two weeks on Friday, August 16th. We'd love to have you join us in Greece, Peru or India next year! (Click below for more info!)
---
---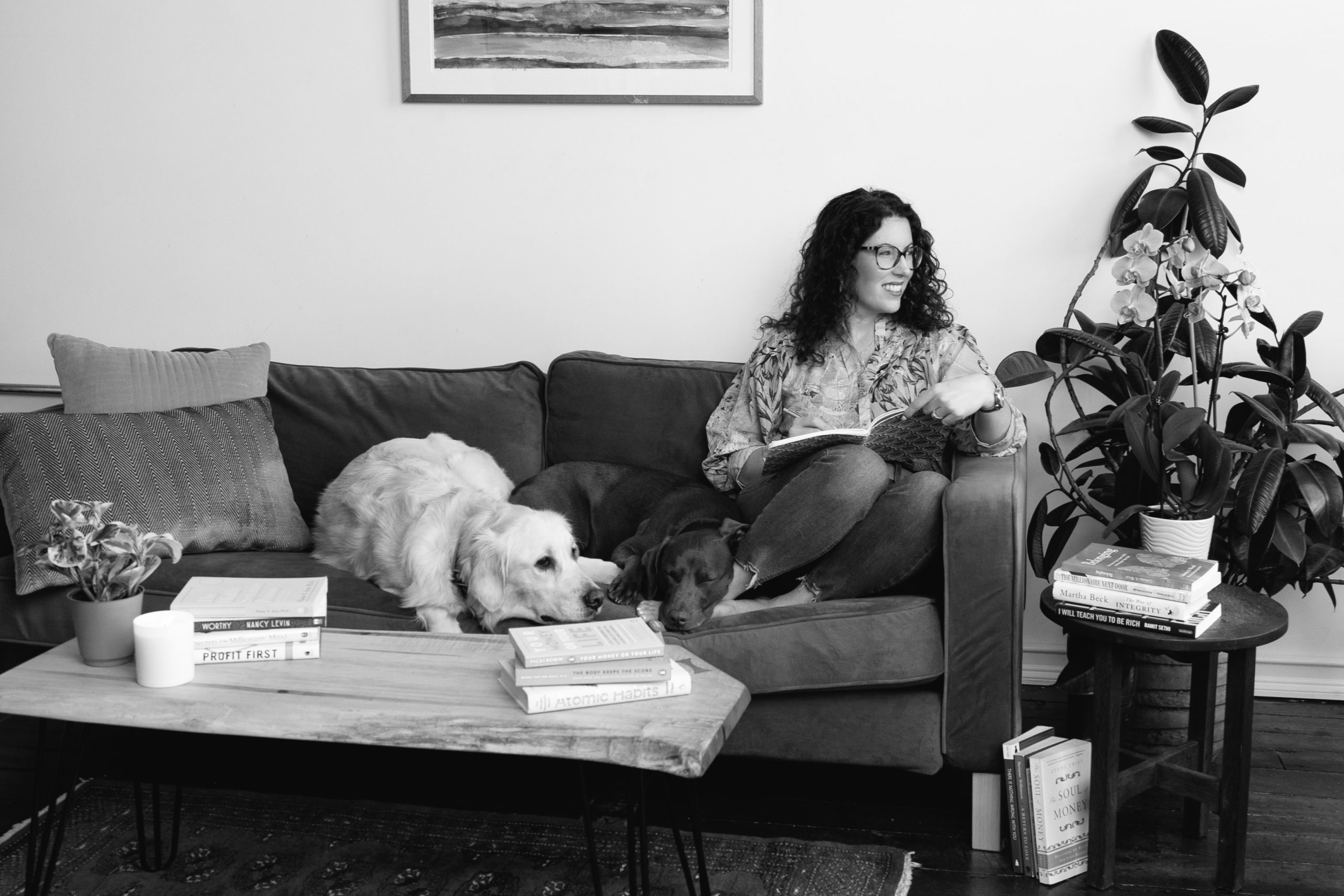 On our Masterminders' Bookshelf
Get instant access to a curated list of needle-moving books that's essential reading in the UNBOUNDED Mastermind.
Thoughtfully divided into categories - Health & Wellbeing, Love & Relationships, Money & Finances, Leadership, Spirituality, and more - so you can start creating a foundation for the life and business you've always wanted intentionally.